Posted by Royce Young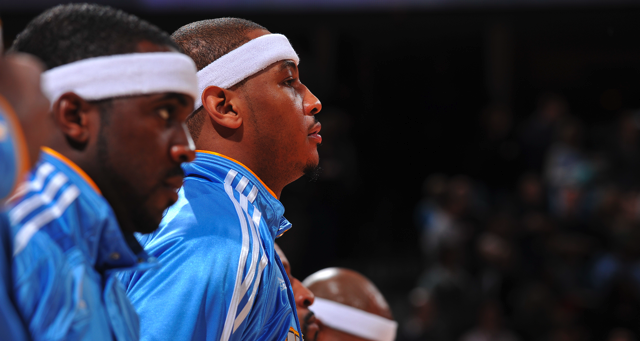 I'm not sure the
Knicks
have felt this lucky since the 1985 draft lottery. But really, something tells me all along that Donnie Walsh knew. He knew that
Carmelo Anthony
wasn't going to end up in New Jersey. That's why he kept the Knicks so low key in the Melodrama.
Nets
owner Mikhail Prokhorov shocked most Wednesday by
announcing his franchise was withdrawing from the Melo chase,
citing that it was exhausting and taking up too many resources. He also said it was costing his team wins on the floor. I really think that
Brook Lopez
's desire to not rebound is probably doing that, but hey, he was looking for reasons.
(Now of course I have to mention that this could just be posturing or a threat to get Denver's attention, but general manager Billy King and Prokhorov seemed emphatic in saying it. These were public statements. It didn't seem like Prokhorov was trying to save face, even though that's what he really did. He knows Melo doesn't want to sign there. He feels like he's wasting time. So I don't buy the bluffing theory.)
With New Jersey pulling out, where does that leave the
Nuggets
? What does this mean for Carmelo? Denver had its best deal on the table with the four-team Nets deal that would give them assets in first-round picks, a young player in
Derrick Favors
and a lot of cap relief and savings. But that's gone now. Just like that, it's killed. Poof. Gone.
The hangup was always that Carmelo wasn't committed to signing an extension in New Jersey. If he was, this thing would've been done two months ago. But we kept hearing it over and over.
Melo hasn't ever said he's willing to sign an extension with the Nets
. Heck, Melo was basically saying it in every interview he did, but we just weren't listening. We were assuming that he was dancing around things. But he maintained he didn't know about the New Jersey stuff. All he ever said was he wanted to play in New York.
And now with New Jersey out of things, the Knicks are looking like the next, and really only option. Carmelo will sign an extension there. The Knicks have a decent package they can put together for the Nuggets. It all kind of makes sense now
that the report dropped today
about the
Bulls
re-entering the chase. The Nuggets are looking for leverage again and if the Knicks are the clear and only option, Denver won't get near the deal. Donnie Walsh sensed it when he said he was done talking about it. And Prokhorov was feeling it too. Everyone was starting to get played.
So here are the Melodrama options right now: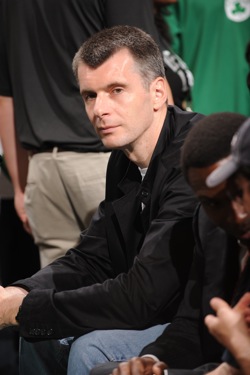 1. The Knicks spring into action.
A New York offer will likely include
Danilo Gallinari
,
Landry Fields
/Wilson Chandler,
Eddy Curry
's expiring deal and a first-round pick. At this point, this looks like the absolute best deal out there, but with other teams, well the Nets, backing off, that deal may not be as sweet. The Nuggets lost a lot of leverage today.
But it's been clear from the beginning that Carmelo wants to play in New York. He'll sign the extension there and the Nuggets can get a decent amount back. This clearly looks like the top scenario unless of course Denver just doesn't approve of what its getting back or the Knicks decide they'll just wait for the summer.
2. Someone tries to rent Melo.
Ken Berger talked about the
Mavericks
getting into the mix a bit to rent Anthony. With the injury to
Caron Butler
, this makes a lot more sense. What it'll take is Dallas being willing to take on a big contract (like
Al Harrington
) in return. Dallas doesn't have a ton of assets so they'll likely have to bring in a third team, but Mark Cuban isn't shy about making moves. And this is something he'd likely see as a deal to get his team back in prime contention.
Another candidate for this would be the
Rockets
, but with them slipping out of the playoff picture a bit, they might not be willing to give up good assets just to make a run to the eight-seed. Dallas is the clear candidate to make a rental out of Melo.
What this scenario doesn't require is "approval" from Carmelo, because he won't sign an extension with his new team. But that's what he wants. This means the Nuggets will get far less because the Mavericks (or whoever) don't get Anthony for the long-term. Again, more indication the Nuggets will turn to the the Knicks to take over and make the deal.
3. A dark horse steps up and Melo approves.
Chicago has already been looped in, but that just seems like a leverage ploy. The Bulls have never been rumored to be high on Carmelo's list and the Bulls have never appeared to be that interested in dealing.
The real dark horse here seems to be someone like the
Clippers
. They have a good package they could put together (
Al-Farouq Aminu
,
Chris Kaman
and some picks) and maybe Anthony gets excited about playing with
Blake Griffin
, who is taking over the league. Los Angeles is a big time market, the team is rising and with Anthony, they could even make a little run this year.
Probably pretty unlikely because Melo hasn't never wavered on his New York wishes, but in terms of scenarios, I think this is at least possible. Chances are slim, but it's an option. The Clippers can top New York's deal, but we'd likely be right back to square one with the "Will Melo sign an extension with the Clippers?" game. That's why it's going to end up being New York.
4. The Nets try and get back in right at the deadline.
Again, with the way Prokhorov and King backed off, this doesn't seem likely. They
know
Melo doesn't want to sign with the Nets. It's that simple.
But walking away is the best negotiation tactic out there. The Nets are trying to buy a new car and the dealership isn't budging. So they got up and left the lot. Maybe this kicks Denver's rear into gear and talks fire up again in a few weeks. Maybe this was a ploy by Prokhorov to get the media off his team's back for a bit.
The fact is, New Jersey has the best deal for Denver. But Melo doesn't want to sign there. If Denver can't get anything it likes by the Feb. 24 trade deadline, the Nuggets might turn back to the Nets and the Nets might convince themselves that they can convinve Carmelo to sign.
5. Nothing.
Melo wants that extension. He said recently that he's positive there will be a lockout and if he doesn't sign that three-year $65 million extension, he could lose as much as $80 million over the life of his next contract. I doubt he's willing to risk that much. However, if the Knicks aren't budging, because they know they can hold out for the summer and just let Melo sign with them as a free agent, and Melo doesn't want to go anywhere, else, we might just see the season get played out.
I don't see that as likely at all because if it comes to this, Denver will trade Melo to Dallas as a rental and get
something
back. But maybe Denver decides it can sign Melo itself again. Maybe they try and convince him that extension is better than waiting and signing with New York but losing money. I guess it's possible, but really unlikely.