DeMar DeRozan will reportedly replace Brandon Jennings in the 2011 NBA All-Star Dunk Contest, as Jennings will be scratched due to injury. Posted by Ben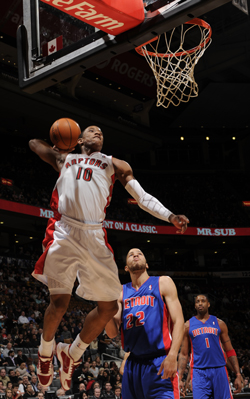 Golliver.
Back in December, Milwaukee
Bucks
guard Brandon Jennings
suffered a foot fracture
that required surgery. So it was a bit of a surprise when, in early January, Jennings was named
one of four participants
in the 2011 NBA Slam Dunk Contest, along with Los Angeles
Clippers
forward
Blake Griffin
, Washington
Wizards
center
JaVale McGee
and Oklahoma City
Thunder
big man
Serge Ibaka
.
The New York Times reported
on Wednesday night that Jennings will be a scratch due to his injury and that he will be replaced by Toronto
Raptors
forward DeMar DeRozan.
The N.B.A. will add DeMar DeRozan to the slam dunk competition, which will be held during All-Star weekend. He will assume the spot vacated by Brandon Jennings, who is returning from a fractured left foot. DeRozan's selection is expected to be announced on Thursday.
When news of the Dunk Contest participants broke a few weeks ago, DeRozan
tweeted
, "Dang! I'm not in the dunk contest this year?" Apparently, wishes really do come true sometimes.
DeRozan is your prototypical slam dunk contest participant, an explosive-leaping, high-flying, hard-finishing athletic wing. He finished second in the 2010 NBA dunk contest, losing to
Nate Robinson
, then of the New York
Knicks
and now of the Boston
Celtics
.
In the final round of last year's contest, DeRozan caught and finished an alleyoop one-handed while jumping over a teammate. He also took off from near the free throw line and threw down with two hands.
Here's a look at the tape, via
YouTube user melo15jr5
.
The 2011 NBA All-Star Weekend will be held in Los Angeles, California, and both Jennings and DeRozan are local products, hailing from Compton.
For more on the other contest participants, click here for
a full analysis
.