Los Angeles Lakers coach Phil Jackson explains the mind games he plays in the media. Posted by Ben Golliver.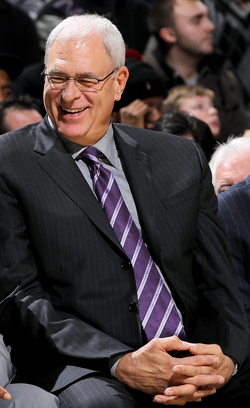 Los Angeles Lakers head coach Phil Jackson -- the so-called "Zenmaster" -- has been in fine form this season, throwing barbs at his players, opposing coaches and an opposing executive or two even more often than usual. His hitlist so far includes: Miami
Heat
coach Erik Spoelstra (
here
), Orlando
Magic
coach Stan Van Gundy (
here
), the NBA and its ownership takeover of the New Orleans
Hornets
(
here
),
Kobe Bryant
(
here
), former Houston
Rockets
coach Rudy Tomjanovich (
here
) and Dallas
Mavericks
owner Mark Cuban (
here
). Also, Jackson railed against the NBA playing games on Christmas.
All the one-liners and trash talk, Jackson admitted in
an interview transcribed by SportsRadioInterviews.com
, are part of a calculated plan to "encourage" the Lakers.
"There is the idea that you can encourage the team through public statements. ... I do sometimes say the most honest thing. … I'll be very blunt and make a statement that is as true as I can make it. … I think that the press is there for your service as a coach and there's a message there you can get across."
In that same vein, Jackson predicted Thursday on LA's 710 AM that the Miami Heat were no match for the Boston
Celtics
, in
comments transcribed by ESPNLA.com
.
"I personally don't think they can get by Boston," Jackson said. "I think Boston is too good a team. I think a team is still going to win. "But there's a chance that [the Heat] ... can maybe round themselves into a team by that time and [win].
"Boston is older and they have to go through the rest of the schedule without having some kind of breakdown of players. [Ray] Allen and [Kendrick] Perkins, etc., they are just really a good team.
"But there's nothing like the great athletic skill and dynamism that [James and Wade] have and [Chris] Bosh is a terrific player in his own right. There's no doubt about their individual skills."
The anti-Heat slights fit Jackson's self-described plan for his public statements in multiple ways. As Jackson mentioned, he tries to be brutally honest. Many share his assessment of the Heat and Celtics. Surely, the biggest question mark for Miami this season is whether they can put it together for an extended run in the playoffs given how dependent they are on the Big 3. He's playing on Miami's biggest insecurity, planting or sprinkling water on seeds of doubt.
And, by focusing on Boston's experience and depth, Jackson indirectly a message to his team, which is also experienced and deep, reminding them that those are the qualities that win playoff games. The biggest question for the Lakers always boils down to teamwork and chemistry. Jackson needs his stars, especially Bryant, to forsake some of their individual accomplishments for the good of the team. By slighting the Heat for having that same problem, he encourages the Lakers towards team play and holds them up to the Celtics standard, which is surely fuel for the fire.
As the playoffs inch closer and the back-and-forth between the contenders ramps up, keep in mind that Jackson is simply following his time-tested playbook for motivational success. The only way to shut him up, of course, is to beat his Lakers.