Los Angeles Lakers guard Kobe Bryant says it's "stupid" for Denver fans to boo Nuggets forward Carmelo Anthony. Posted by Ben Golliver.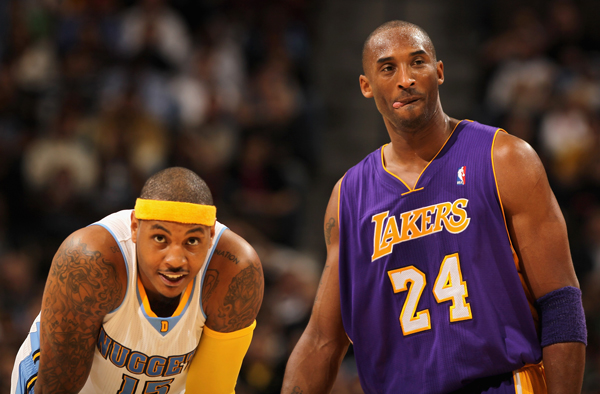 Normally when a team convincingly beats a playoff-bound division rival at home and its franchise player leads the way with 35 points, seven rebounds, one assist three steals and a block, that's cause for fans to celebrate.
Not so in Denver, where All-Star forward Carmelo Anthony led the Nuggets past the Oklahoma City
Thunder
on Wednesday night and was showered with boos by the Pepsi Center crowd. Of course, Anthony's big night came on the same day that trade talks centered around moving him to the New Jersey
Nets
fell apart publicly
.
At least one prominent NBA citizen has taken issue with Nuggets' fans treatment of Anthony. That would be Los Angeles Lakers guard Kobe Bryant,
according to NBA Fanhouse
.
"That's stupid,'' star guard Kobe Bryant said in speaking with FanHouse and the Denver Post after the Lakers practiced Thursday at the Pepsi Center in preparation for Friday's game against Denver. "That's not very smart.''
"Put yourself in his shoes,'' Bryant said. "If you're teeter-tottering about going somewhere, he'd be more inclined to go to another place where they're going to cheer you instead of boo you.''

"I don't think it helps,'' Bryant said of the boos. "Obviously, it's hard to trade him. It's hard. So maybe he won't be traded. Who the hell knows? But you got to show support for him. He's still playing hard. ... Either you ride with him or you don't.''
With all due respect to Bryant, Nuggets fans aren't stupid. Months of trade rumors, a recent public statement from Anthony that his "ultimate dream" is to play in New York City, other comments Anthony has made about playing for a team closer to his family, and -- most obviously -- the lack of a contract extension or any direct or indirect public statements that he plans to stay in Denver -- have understandably left Nuggets fans a bit testy.
Of course, this isn't just some isolated, random angst unique to Denver. Nuggets fans can look around the league -- specifically at the Toronto
Raptors
and Cleveland
Cavaliers
-- and get a glimpse at what the future of their franchise will be like without Anthony. Obviously, it's not a pretty picture, and Anthony would take the blame for the perception of future struggles in any NBA market and from any NBA fanbase that was put in Denver's situation.
Anthony's approach to the Nuggets franchise and their fans has essentially been the old
Seinfeld
breakup routine, "It's not you. It's me." He's tried very hard to remain professional in how he presents his long-term desires. That soft approach can only do so much to cushion the anger and disappointment that comes with an inevitable breakup.
One thing that no one can do here -- not even a star like Bryant -- is fault Denver Nuggets fans for their passion and pain.