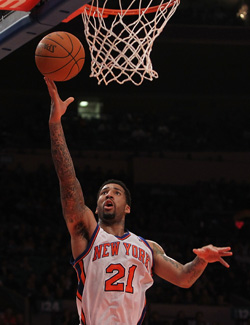 Posted by Matt Moore
Newsday reports:
Chris Luchey, who has represented Chandler since he entered the NBA Draft in 2007, confirmed to Newsday that he has been let go. Luchey called it "amicable" and said he had "no ill will" toward Chandler, which is an interesting choice of words considering "Ill Wil" is one of Chandler's nicknames. "We'll have a personal relationship that will continue for a lifetime," Luchey added.
The bottom line is, Chandler fired his agent. And this is a tough loss for Luchey, who had to accept Donnie Walsh's decision to not offer Chandler a contract extension in the fall.
via
Sports Blogs Item
.
Chandler's story has been an interesting one this season. He was widely expected to be buried on the
Knicks
as part of the continuing effort to erase the Isiah Thomas era from memory completely. But instead he's become a vital part of the Knicks' offense, averaging a career high 17.4 points per game, as well as
career highs in rebounds, blocks, and True Shooting percentage
.
So with Restricted Free Agency on his horizon this summer, Chandler's probably made this decision in order to capitalize on the biggest moment. After all, Luchey hasn't exactly done a great job in pursuing his client's best interests through his rookie contract. Should the Knicks decide to free up the capspace in pursuit of another big name free agent, Chandler will have quite a bit of value on the open market. Scorers that can run efficiently under the age of 25 tend to hold pretty well on the market. But considering how well he fits on the Knicks, as a versatile combination of pure-shooting scorer and Matrix-like wing, they may well opt to keep him long-term.
In related news, did you know
Wilson Chandler
is averaging 1.4 blocks per game? Am I the only one that finds that bizarre?