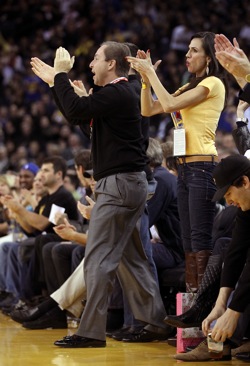 Posted by Royce Young
As soon as Mikhail Prokhorov let the words out of his mouth, Masai Ujiri's phone probably started ringing. And ringing. And ringing.
Once it became clear that the New Jersey
Nets
were pulling out of the
Carmelo Anthony
chase, the world opened up to 29 other teams that might be in search of a new piece to the puzzle. Not necessarily in terms of just Anthony, but maybe they could become a partner in a potential three-way deal.
But some out there are definitely interested in the services of Melo. He's a star with star power and scoring power. No matter what the statistical inclined people say, Melo is a very, very good basketball player. And people want it.
So on top of the
Knicks
,
Rockets
and
Mavericks
, add in a new team that might be interested in playing the Melo game. The Golden State
Warriors
.
"We've had discussions with Denver,"
owner Joe Lacob to the Mercury News.
"And I think it's possible. But unfortunately, he clearly wants to be one place geographically."
Ah, so Lacob isn't actually completely serious about it, because unlike some, he realizes that the whole extension thing is the catch in this whole thing. But Lacob said he thinks the Warriors can offer a package that would top any other out there. He said the team wouldn't be shy about breaking up
Monta Ellis
and
Stephen Curry
if the right deal presented itself.
"We think we have better assets to go after someone like him, that caliber, than most of the teams out there that are being talked about," Lacob said.
The Warriors new ownership group clearly has visions of running this franchise in a different way than Chris Cohan. Lacob isn't shy about saying what he wants. He talked about the team needing post help, about not understanding some of Keith Smart's rotations and how they feel the need to be aggressive and active in trade discussions.
"We're willing to do anything to improve this team -- I told you," Lacob said.
We hear you, Joe. But talking is one thing. Warriors fans have heard a lot of that. Melo obviously isn't in the cards for Golden State but it sounds like the team is willing to take a chance to make a splash. That's progress, I think.