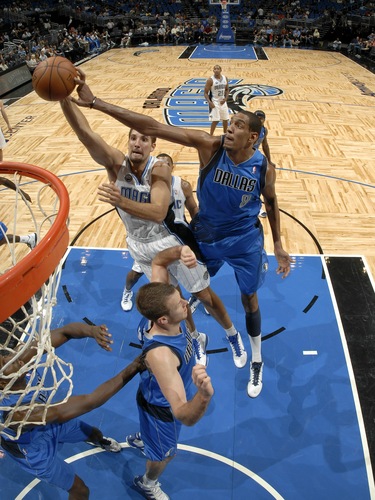 Posted by Royce Young
According to Yahoo! Sports
and
ESPN Dallas
the NBA has held up a trade to send Dallas Maverick forward
Alexis Ajinca
to the
Raptors
. According to the reports, several rival front offices have privately charged an illegal side deal had been arranged to get
Peja Stojakovic
to the Mavs.
Peja of course was waived and bought out by the Raptors Thursday.
All indications still point that the Mavs appear to be ready to sign Stojakovic once he clears waivers. He'll become a free agent Monday and has reportedly given the Mavs a verbal commitment.
To create a roster spot for Stojakovic – who had almost immediately committed to the
Mavericks
– Dallas agreed to send the Raptors the 7-foot Ajinca, a future second-round pick and cash to Toronto for the rights to Georgios Printezis.
As the report from Yahoo! notes, such accusations like this are hard to prove and the league is just performing its due dilligence in holding up approval. The trade is still likely to go through, according to reports. When reached by email on Friday by Yahoo!, Mavericks owner Mark Cuban denied there had been an illegal prearranged deal.
The trade was appeared to be done Thursday as TNT's cameras even caught Mavs coach Rick Carlisle breaking the news to Ajinca before Dallas's game against Chicago. Ajinca was told to go back to the team hotel and wait.
Again, this is just the league fulfilling its obligation to check it out and more than likely things will eventually go through. But there is a chance the league could find things were done improperly and Dallas would need to figure out how to clear a roster spot for Peja a different way.