Indiana Pacers coach Jim O'Brien and GM David Morway are reportedly in hot water when their contracts are up this season. Posted by Ben Golliver.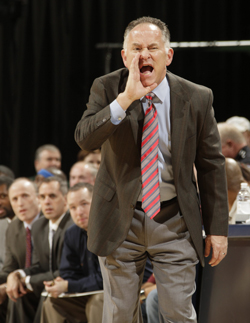 The Indiana Pacers got off to a promising start this year, but it's been back to mediocre over the last month or so, as the team has fallen to 16-23, well below .500.
ESPN.com reports
that another losing season could be the last for Indiana Pacers coach Jim O'Brien and GM David Morway.
Indiana Pacers brass is not pleased with the performance of head coach Jim O'Brien, according to several league sources.
That said, O'Brien, who is in the last year of his contract, is likely to remain as coach the rest of the season. Part of the reason is that no one on O'Brien's staff -- Dan Burke, Frank Vogel, Jay DeFruscio, Vitaly Potapenko Walter McCarty -- is viewed as a suitable replacement.

GM David Morway could also be in trouble after the season, and league scuttlebutt has former Portland GM Kevin Pritchard as a likely replacement.
On Thursday,
the Indianapolis Star noted
that Pritchard, who is not currently employed in any capacity by the team, was travelling with Pacers president Larry Bird on the team's road trip.
Pacers president Larry Bird invited Pritchard, who was fired by Portland about an hour before last summer's NBA draft, on the trip. Their friendship goes back to when the two were teammates with the Boston Celtics during the 1991-92 season. Bird likes to pick the brains of people who have held front office positions. Golden State's former executive of basketball operations, Chris Mullin, also a former Pacers player, might hang around the team later in the season.
"There's a lot of guys around the league I talk to," Bird said. "I've always done that."
Bird, the paper also noted recently, is in the final year of his contract as well, and hasn't yet reached a decision about whether or not he'll be back.
The Pacers didn't have a great offseason, drafting as-yet-unproductive forward
Paul George
and guard
Lance Stephenson
, who immediately made national headlines after
getting involved in a domestic violence inciden
t and was asked to remain away from the team. Indiana did net promising young point guard
Darren Collison
in a trade that dumped
Troy Murphy
to New Jersey, but it hasn't been enough to turn them into a solid playoff team.
Earlier this month, CBSSports.com's Ken Berger
outlined the uphill battle
the Pacers were facing as a small-market team attempting to compete against the league's deep-pocketed, big-market teams.
A Moneyball-style GM like Pritchard would make a ton of sense in Indiana, as his understanding of advanced statistics, analytics and cap management is generally seen as the surest way for a small-market team to get the maximum bang for their buck and narrow the gap between the LA's and New York's of the world. Pritchard's name will likely generate a lot of interest this summer, as he and TNT commentator Steve Kerr are the two biggest names among former GMs that are not currently employed in that capacity.