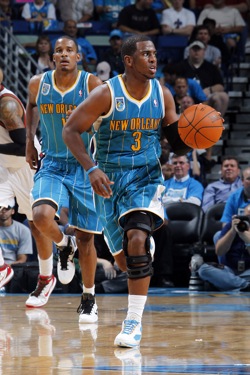 Posted by Royce Young
UPDATE:
The
Hornets
have met the benchmark as they pulled in a crowd of 17,233 against the
Thunder
.
Before tonight's game against the Thunder, the New Orleans Hornets, Gov. Bobby Jindal and the city's mayor will make an announcement regarding the attendance benchmark that expires Jan. 31.
What are they announcing? It looks like the Hornets will meet it.
The team only needs to bring in 11,000 fans against the Thunder tonight, after bringing in 18,203 against the
Spurs
.
According to
The Times-Picayune
, local businesses have donated about $412,000 for tickets to games against Memphis and Toronto to help increase attendance figures. The home game previous to that against the Orlando
Magic
, who have big names like
Dwight Howard
and
Gilbert Arenas
, only brought in a crowd of 13,688. The previous two home games before the Magic, the Hornets saw crowds of 13,532 (
Warriors
) and 13,433 (
76ers
).
One other reason attendance might be going up is that the team is playing really well again. After starting the season 11-1, the Hornets slipped quite a bit, dropping 11 of 16. However, they're playing great again now, going 13-4 over their last 17. Plus, the past two games against the
Hawks
and Spurs, the Hornets have allowed only 131 points,
combined.

With the team meeting the mark, the franchise isn't allowed to break its lease early with the city-owned arena. Had the Hornets come up short, they could've terminated the lease early.
That was something a potential new buyer was definitely interested in, because it was a way to relocate the team earlier than planned. However, with the team now locked into its lease through at least 2014, the Hornets have bought some more time in New Orleans. It's still borrowed though, but at least they've taken a first step.