Detroit Pistons guard Richard Hamilton says he is "offended" by how he's been treated by coach John Kuester. Posted by Ben Golliver.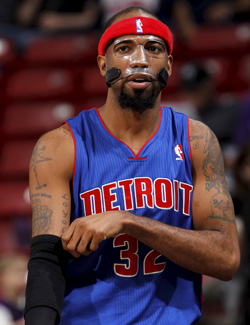 Stop me if you've heard this one before: Detroit Pistons guard Richard Hamilton is unhappy with his situation and with coach John Kuester. If this sounds familiar, it's because Hamilton has done a superb job of letting everyone know exactly how upset he has been recently. Back in December, he didn't go through a Pistons practice. Earlier this month, he was
benched and then went off on Kuester
after the game, only to be
benched again and again
as trade rumors involving Hamilton being moved to the New Jersey
Nets
swirled.
On Monday,
the Detroit Free Press reported
that Hamilton says he feels "offended" because Kuester did not approach him directly to iron out their differences, instead relying on an intermediary.
Hamilton told the Free Press on Sunday morning that Kuester's attempt to reach out to him consisted of Jerry Hendon, the team's security head, coming to him a minute before the team was meeting to go over strategy for Saturday's game with Phoenix to tell him Kuester wanted to talk to him.
"I felt offended that he sent Jerry instead of coming himself or sending an assistant coach," Hamilton said. "I could tell Jerry was uncomfortable and I said no."
He didn't say how or when, but Kuester told the media Saturday evening that he tried to make a connection with his shooting guard. Hamilton hasn't played in seven games since becoming the subject of trade talks with New Jersey and Denver and lost his starting position to Rodney Stuckey.
"We made overtures and one of the things that's important is he is somebody that's on our team now," Kuester said before Saturday's game. "We know that and we've reached out to him."
One thing is self-evident: These two guys are badly in need of a conflict mediator.
When you're upset and feeling disrespected, as Hamilton clearly is, it's easy to perceive every minor incident as a slight, projecting negative motivations upon the source of your anger or frustration.
Generally speaking, Kuester doesn't owe Hamilton much of anything. He's the coach, his playing time and rotations decisions are final, and he's charged with managing the egos and personalities of an entire team, not cow-towing to an individual player, even if its a respected veteran.
With that said, Kuester isn't faultless here, by any means. He knew weeks ago that he was going to make a season-shifting decision in his use of Hamilton. That he didn't convey that news directly, respectfully and in a fully explained manner to begin with led to the hurt feelings that continue to manifest weeks later. Given how obviously upset Hamilton has become, Kuester really had two choices: reach out directly to Hamilton to squash the beef, or keep him away from the team indefinitely until he calms down.
That he sloppily attempted a middle road turns this into a "fool me once, shame on you, fool me twice shame on me" situation. Kuester needs to re-assert his authority or the headlines will continue.