Golden State Warriors point guard Stephen Curry responds to owner Joe Lacob saying that he could be traded. Posted by Ben Golliver.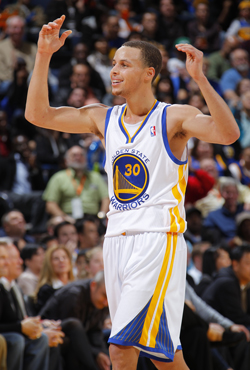 Joe Lacob is the newly-minted owner of the Golden State Warriors, so we should probably forgive him for being a bit too honest in his recent talk of shaking up his roster. In
comments made to MercuryNews.com
last week, Lacob said that no one on his team is untouchable and that he would consider breaking up the Stephen Curry /
Monta Ellis
backcourt if presented with a good trade offer.
"I really like those guys as individuals, and I like them as players," Lacob said. "But I have to be honest, it depends. If we got offered a great situation, would I break it up? Yes."
The owner called Ellis "our core, franchise player," and agreed that Curry has not played to the standards of last season.
"Does that mean that Curry would be traded, or more likely to be traded than Ellis? Not necessarily," Lacob said. "It really depends. "... This is all dependent on what you're going to get in return."
Well, that is certainly an unusual way to conduct business in the NBA.
Curry has been hampered by ankle injuries throughout the season and, it cannot be forgotten, is still really freaking good. He's on a rookie deal, his scoring numbers are up, he's improved his assist/turnover ratio, he's one of the best shooters in the league, he brings no ego or baggage to the table, he wants to win and plays hard every night, he puts in the hours to make himself better and he's helped Ellis take a step forward in his career development this season. He has shortcomings defensively, but so does the rest of the team, as Golden State is ranked
No. 26 in defensive efficiency
.
This is a guy that you want to keep happy and that you want to keep long-term. He's a franchise piece and executives from all the teams out there without a quality starting point guard are likely reading Lacob's statements and wondering whether he's lost his marbles or is in over his head.
To his credit, Curry responded in the best way possible: producing on the court and remaining as professional as possible. Here are his thoughts,
via the Oakland Tribune
.
"It's a bit of a shock, because you feel like you're doing everything else you were supposed to be doing," Curry said Sunday. "Especially since I've never been in a situation where me changing teams or being traded would be an option, it's kind of like a weird thing to think about. But they've been straightforward about what they see in us and it's all been positive for me, so I don't have any problem brushing that off."
If you call 66 points, 11 assists and nine rebounds over two games brushing it off, then Curry indeed dusted the rumors off his shoulder. He led a fourth-quarter comeback in Friday's win over Sacramento. He almost did again Saturday against the Clippers in Los Angeles with backcourt mate Monta Ellis limited by a sore ankle.

"If anything," Curry said, "it was the result of me reminding myself. I'm my biggest critic. I just play the game and don't worry about expectations except the ones I put on myself."
Calling out players in public is almost always a recipe for disaster, even when we're talking about a choirboy like Curry. Surely when Lacob has some time to reflect on his statements and the impact they would have on a young guy like Curry, he might realize that he could have found a better approach publicly.
NBA stars have memories like elephants, and team and player have many negotiating sessions ahead of them. Goodwill in public is a highly underrated commodity in this league.