Peja Stojakovic has been officially acquired by the Dallas Mavericks, who also announced a trade that sent Alexis Ajinca to the Toronto Raptors.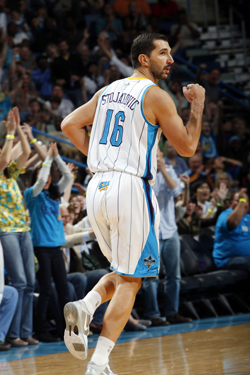 Posted by Ben Golliver.
Late last week, we noted that the Toronto Raptors were buying out Peja Stojakovic, and that the veteran forward
planned to sign
with the Dallas Mavericks. In a not-officially-related move, the Mavericks were going to trade reserve big man Alexis Ajinca to the Raptors. The timing of the two moves raised some questions around the league, and the deal was
held up by the league
so that an investigation could take place.
On Monday, the Mavericks announced that both moves had been completed. In addition to formally confirming Stojakovic's signing, the Mavericks sent out the following details regarding the Ajinca trade.
The Dallas Mavericks announced today that they have traded center Alexis Ajinca, a second round draft pick and cash considerations to the Toronto Raptors in exchange for the draft rights to forward Georgios Printezis.
Ajinca (7-2, 248) played in 10 games with 2 starts for Dallas this season. He averaged 2.9 points, 1.7 rebounds and 7.5 minutes per game as a Maverick. Ajinca was originally acquired via trade from Charlotte on July 13, 2010. Printezis (6-9, 230) was the 58th pick of the 2007 NBA Draft by the San Antonio Spurs before Toronto acquired his rights from San Antonio for a future second round pick. Printezis is a native of Athens, Greece and plays professionally in Spain.
The trade details are surely a formality, as the pick is likely heavily-protected and the draft rights to Printezis are inconsequential.
The move to pick up Stojakovic, of course, is an effort to fill the hole left by
Caron Butler
's
season-ending knee surgery
. It's not totally clear how much game the 33-year-old has left, as he's made just eight appearances so far this season.
This signing is the definition of a low-risk, low-reward move, as Stojakovic will make the veteran's minimum, costing Dallas virtually nothing, and Ajinca wasn't likely to see court time or progress past his "project" status any time soon. Even if Stojakovic is the step-slow, no-defense, spot-up shooting small forward everyone seems to think he is, the only standard he really needs to meet is "better than nothing."
ESPNDallas.com reports
that Mavericks head coach Rick Carlisle said on Monday that Stojakovic will not play for Dallas on Tuesday night against the Los Angeles
Clippers
and said that it wasn't yet clear whether he would play on Thursday night against the Houston
Rockets
.