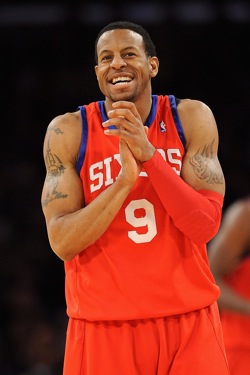 Posted by Royce Young
Less than a month ago, the
76ers
were reportedly talking about putting just about everyone on the block, including bedrock player
Andre Iguodala
. He was rumored to be part of a potential three-way
Carmelo Anthony
deal and was talked about possibly being sent somewhere for high draft picks.
Basically, the 76ers were ready to blow up their core and start over. Again.
Except they started winning. And lucky for them, they happen to be in the Eastern conference where even if you have only 10 wins, you're still sort of in the playoff hunt.
As a result, all that talk of trading Iguodala and
Elton Brand
is being put away for now as the Sixers make a little playoff push.
A report from Sporting News says:
The playoff push has clearly lifted the Sixers' outlook. According sources around the league, Philadelphia is not eager to make major roster changes now, and both Iguodala and Brand are all but certain to be with the team throughout this season.

That's just fine with the players. "In the beginning of the year, we had new guys, we had a new coach, we weren't really playing up to our ability," said Brand, who is having his best season as a Sixer with averages of 15.0 points, 8.7 rebounds and 51.4 percent shooting from the field. "But we knew we were a better team than that. I think everyone here wanted a chance to show what we can do."
Right now, Philadelphia sits in seventh at 19-25 and is just four games behind the
Knicks
for sixth. The Sixers started the season 3-13, but went 8-7 in December and are 6-5 so far in January.
Plus, Iguodala, who started extremely slow, is coming around finally. He's scoring better and scoring efficiently, plus is playing quality defense on top of rebounding from his 2-guard spot. Brand is quietly averaging 15.0 points and 8.7 rebounds per game, which is one of his better seasons in a few years. He's healthy and he's showing he still has something left.
Then there's the marked improvement from
Thaddeus Young
who is a legitimate Sixth Man of the Year candidate and Jrue Holliday who has taken a big step forward this year.
Evan Turner
, the second overall pick, has been inconsistent, but on given nights shows off real ability to score and create.
Doug Collins was hired by the Sixers with a reputation for turning young teams around and he's doing exactly that. The 76ers have a real shot at postseason play and with the way they are improving, might actually find themselves with a decent seed. They can get to a spot above .500. They're only six games off that right now.
They're young, inexperienced and still lose games they shouldn't. They still haven't figured out how to win consistently on the road. But the past two months have convinced management to hang on for a little while and keep this current group going.