Miami Heat forward LeBron James mocks Dwyane Wade's migraine glasses. Posted by Ben Golliver.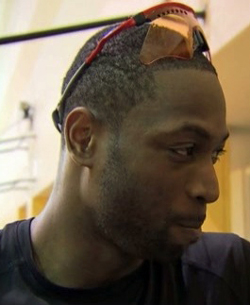 Miami Heat guard Dwyane Wade has been battling migraine headaches that caused him to miss Sunday night's game against the Toronto
Raptors
, and he has taken to wearing protective goggles during practice this week to ease the light sensitivity on his eyes.
Because LeBron James thinks that LeBron James is hilarious, LeBron James decided to wear similar goggles to mock Wade but play it off like he was doing it to make Wade feel better. The
Palm Beach Post
captures James' explanation
.
"D-Wade is like a kid who just transferred schools, and they don't have any friends," James said. "So, you know, I felt like me putting on glasses today, I would help him get accustomed to the new school that we've got going on right now. I decided to join him, and I made him part of our little Boy Scout club we've got going."
James signs with Wade's Heat during the offseason, and then decides he runs the school and Wade is the loser transfer. Got it. I won't even touch the Boy Scouts part, as that is pretty much indecipherable.
The real question: Are these glasses (pictured top right) really that bad? We've been hearing about them all week, how coach Erik Spoelstra was cracking up when he saw them, according to a
Sun-Sentinel item
, for example.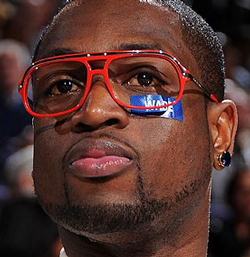 The jokes began the moment he walked into the locker room. Heat coach Erik Spoelstra began laughing the second he saw Wade wearing the eyewear.
Spoelstra even struggled during the team film session, refusing to look at Wade to prevent from bursting in laughter.
"Dwyane is doing his best Danny Schayes impersonation," Spoelstra said, referring to the former NBA player known for his eyewear.
After finally getting a look at them, they look fairly normal.
And it's not like Wade hasn't done worse before, by choice and not by medical direction. Check out the look to the right
via Rec Specs Revolution
. Those are somehow stylish and trend-setting while the migraine headache headwear is loserville? Color me confused.