Boston Celtics center Kendrick Perkins is set to make his return from a lengthy rehabilitation after knee surgery on Tuesday. Posted by Ben Golliver.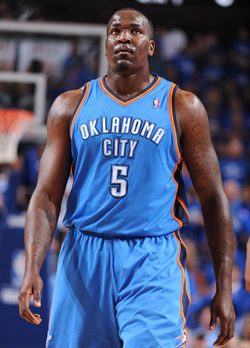 Watch out, world: The Boston Celtics are about to get their mojo back.
Center Kendrick Perkins, the only piece of Boston's 2008 title-winning starting lineup not to play yet this year, is set to make his return on Tuesday night from a lengthy rehabilitation following knee surgery,
according to WEEI
.
Perkins tore his right ACL in Game 6 of last year's NBA Finals and missed Game 7, costing Boston their chance to defeat the Los Angeles
Lakers
and bring home their second title in three seasons. He underwent surgery in July and said at the time that he expected to miss 5-6 months, putting his return pretty much on time.
More recent estimates
had placed Perkins' return date around early February, so Tuesday night's return qualifies as a pleasant surprise to Beantowners. The Celtics are set to host the Cleveland
Cavaliers
, losers of 17 straight games.
What should Celtics fans expect from Perkins? After ACL surgery, mobility and quickness can be slow to return, and it can takes weeks if not months for a player to recover his top-end speed and agility. Most coaches will phase a player in gradually following this type of surgery, testing him at various minute thresholds to see if any discomfort develops.
ESPNBoston.com reports
that Celtics coach Doc Rivers plans to bring in Perkins off the bench and keep him to a "12-16 minute restriction." Whatever minutes Perkins can give the Celtics will be much appreciated, as both
Shaquille O'Neal
and
Jermaine O'Neal
have been ruled out with nagging injuries.
Perkins is often overshadowed by the Big 3 plus
Rajon Rondo
, but he's a key centerpiece, a solid defensive and rebounding force with the ability to finish at the rim as well.
Update
: Perkins checked in at the 8:02 minute of the first quarter and received a hearty standing ovation from the TD Banknorth crowd. Here's the video.