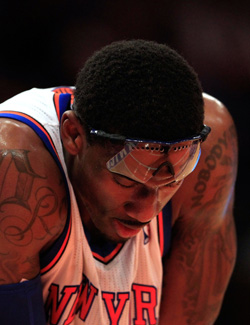 Amar'e Stoudemire ain't scared of no ghosts, if by "ghosts" you mean "the Miami Heat."
Posted by Matt Moore
Fear is at once a powerful commodity in the NBA and something held out of the mouths of its participants. No player will admit they are afraid of the moment, of their coach, of failure, and especially not of another team. At the same time, it's got to be hard to find someone who isn't intimidated by the Boston
Celtics
, who doesn't cringe when trying to draw a charge on
LeBron James
, who doesn't quake when they realize
Kobe Bryant
has the ball in the closing seconds. The mistake made by men is denying fear itself rather than acknowledging it and relying on their ability to overcome that fear.
(You're going to have to forgive me, I've been reading "
Band of Brothers
" which makes failure in front of millions of people seem like a stroll through Candyland. )
Regardless, Amar'e Stoudemire is choosing the option of outright denial. From ESPN New York, and simply:
"Nobodys afraid of the Miami Heat," Stoudemire said Wednesday afternoon.
via
New York
Knicks
Amare Stoudemire says Nobodys afraid of the Miami Heat - ESPN New York.
Moving past the point that no one's really afraid of the New York Knicks either, is that this quote shows a few things:
The league is still kind of rolling its eyes at the Heat, even after the huge win streak they had.
Stoudemire very much accepts his role as the leader of a major market, and will play the part.
Would Stoudemire say that anyone fears any team? It's pretty easy to see why teams would fear the Lakers or Celtics, but would anyone really admit it? After all, David Lee says he doesn't fear the Spurs, so clearly these guys have problems with identifying what to be scared of.
The only thing the players are scared of? A lockout. But even that they're saying they're ready for.
Without Bosh tonight, the Heat are going to be severely limited in attacking down low. Except that the Knicks are notorious for being weak inside, even with Stoudemire having a slightly better year in terms of weakside interior defense. But whoever wins down low, it'll be interesting to see if LeBron James gives Stoudemire something to be scared of. Maybe the Heat should wear spooky masks or something.