The Miami Heat have reportedly bailed out former point guard Tim Hardaway from significant tax debt by purchasing his house. Posted by Ben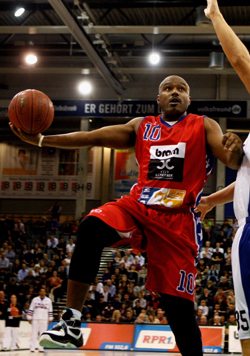 Golliver.
It's often said that the greatest honor an NBA franchise can bestow upon a player is to retire his jersey, and while that kind of thing is priceless, taking care of a six-figure IRS debt has to be right up there too.
Earlier this week, Ken Berger
detailed Antoine Walker's financial troubles
and Royce Young
looked at the messes
former NBA players often find themselves in. On Thursday, the Detroit News reports that former Miami Heat point guard Tim Hardaway was up to his UTEP Two-Stepping waist in debt, before his former team stepped in to make his money problems disappear.
The Miami Heat, one of the NBA's hottest teams, bailed out former star Tim Hardaway, whose namesake son plays for the University of Michigan basketball team, by buying his Miami mansion and clearing up a $120,000 federal tax debt.
Hardaway, 44, ran into tax trouble in June despite being paid more than $46.6 million during his NBA career. The IRS filed a tax lien against his property and the bill listed his 7,542-square-foot mansion in suburban Miami. The IRS filed a $120,748 lien against Hardaway and his wife on June 1 with the Miami-Dade County Clerk. According to the lien, the couple owes income taxes from 2005 and 2006.
On Sept. 3, three months after the lien was filed, Hardaway sold the mansion to Miami Heat Limited Partnership, which owns the Miami Heat. The Heat paid $1.985 million, according to public records. Today, the Heat is trying to sell the five-bedroom, five-and-a-half-bath estate, which comes with a pool and private basketball court decorated with a Miami Heat logo, for $2.5 million.

The paper reports that Hardaway refused to provide an explanation for the sale and the team also refused comment. There's nothing obviously illegal about the arrangement, but it's sure unsettling.
What does this say about the NBA if a team employs a player at a ridiculously high salary for years, watches the player spend his money on ridiculously opulent real estate, purchases the ridiculously opulent real estate when the player runs out of money like so many others, and then attempts to flip the real estate for a profit.
Come to think of it: this would come off like a genius business plan if it didn't make you feel so dirty thinking about it. Maybe this is why the owners want to lockout next season? So they can buy up all of their players' foreclosed houses and repossessed cars at public auction.
I kid, I kid. Sort of.