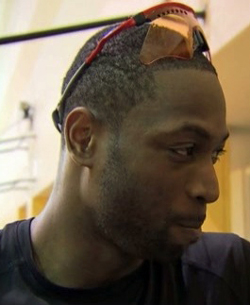 Posted by Royce Young
Dwyane Wade
missed the
Heat
's last game Sunday against the Toronto
Raptors
because of migraine headaches.
He's set to play tonight against the
Knicks
, but was planning on wearing tinted goggled to help reduce the light hitting his eyes.
However, the NBA announced that it was banning Wade's goggles,
according to the South Florida Sun-Sentinel.
After being checked at an NBA office, officials determined they were an "unfair advantage" since opponents would not be able to see Wade's eyes, according to the newspaper.
Earlier in the week, we told you about how LeBron was making fun of Wade's new specs, wearing a pair in practice to mock him.
He then gave a weird quote about Boy Scouts or something.
Wade said he only planned on trying out the goggles tonight anyway and wasn't intending to rely on them. So he's still set to go for the Heat, but the fact that the goggles were called "unfair" is a little odd.
I think having
LeBron James
and D-Wade on the floor together at the same time is a little unfair, but we don't see the NBA banning that, now do we?