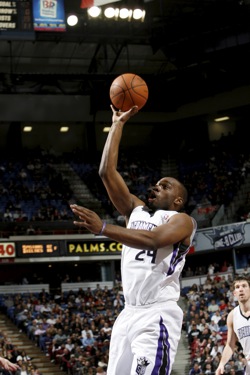 Posted by Royce Young
When you lose, and lose a lot, players, coaches, fans and local media start saying things. And I'm not talking about nice, positive things necessarily.
So as is the case in Sacramento, a team that's been a solid disappointment at 10-33, players are saying things. In this circumstance, it's forward
Carl Landry
.

Landry, talking with the Sacramento Bee,
was elaborating about what worked with former coach Rick Adelman in Houston. As a result, he gave the
Kings
a bit of a backhand.
"We ran and everybody shared the ball," he said, "and when we didn't have anything on the break, we'd run pick and rolls. We won 22 straight games (in 2007-08) without Yao (Ming) and mostly without Tracy McGrady . We could do that here, but that's not what we do, and you have to play the system the coach (Paul Westphal) wants."

More Landry:
"The basketball IQ on this team is not very good," Landry said, "and that (knowledge) takes time. If you look at J.T. (Thompson), he's had three or four coaches in his four years, coaches that probably weren't that good. Everybody in this league can play. But it's about spacing, having the right guys on the floor, running the right play. Move the ball. Set back screens, down screens, and play together. Our shooting percentage is so low because everything is one-on-one."

So take that Eric Mussellman and Reggie Theus.
Obviously Landry has a point, otherwise the Kings wouldn't struggle scoring (26th in offensive efficiency) and might be a bit better. What this shows though, is that Paul Westphal has all but lost his squad. He's already supposedly safe for the season (mainly because of his big contract) but the team just isn't buying into his system.
The Kings prefer to run (eighth in pace) but because of a number of different reasons, one being that they don't move the ball all that well, it's not working. The team has tried to anchor its offense around
Tyreke Evans
' ability to bail them out with penetration late in the shot clock, but that's not the best system.
Thing is though, players still have to play. In Houston, the
players
shared the ball. I'm sure Westphal isn't telling his guys to run but play selfishly. I imagine the system has a lot to do with producing unselfish play, but still, players can make plays.
It's never a good thing to lose and it just gets worse when players start telling you, rather candidly, why you're losing. That's what Landry's doing here and more than anything, it's another example of how Westphal is struggling with this young team.
Via Sactown Royalty