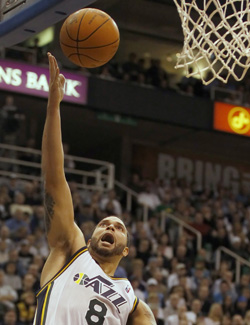 MRI negative for Deron Williams' wrist, day-to-day, but what about the Jazz as a whole?
Posted by Matt Moore
Deron Williams "felt a pop" when he injured his wrist Wednesday night, prompting him to have an MRI done, and stopping the hearts of every Jazz official, player, and fan throughout the land. But the good news
is that the results are back
, and they are negative. No structural damage for Williams, and he's listed as day-to-day with a strained tendon.
Losing Williams is not the same as the funk the Jazz are going through. There's a number of people jumping off the good ship Jazz 2011, but in reality, they looked very good at the beginning of the season. There are a number of areas of concern, however, as outlined by the
Salt Lake City Tribune
's Kurt Kragthorpe in his midseason review a week ago:
In previous years, "We had a better chemistry," Williams said. "I don't know if you could say better players that fit the system, but a better mesh of guys."

For all of his leadership and dependability, Raja Bell appears every bit of 34 years old, shooting poorly and defending inadequately. Nobody's sure what to think of rookie Gordon Hayward.

So the newcomers have not changed the organization's outlook, and play of the holdovers is no more encouraging. The contract-year version of Andrei Kirilenko is the usual model, a sixth-year C.J. Miles is still not a complete upgrade, Paul Millsap is slumping and not even Williams is exempt from criticism.
via
Kragthorpe:
Jazz's
downturn leads to depressing forecast | The Salt Lake Tribune
.
And all that was much nicer than what was said and is being said about
Al Jefferson
. The real problems, though, are the things wrong on defense, as Zach Lowe from SI illustrated earlier this week.
Over the last six weeks or so, the nightmare scenario for Utah has played out. Both of those early problematic trends have continued, while opponents have started to make shots. Teams shot 46 percent from the floor (and 39 percent from three) against the Jazz in December; those numbers have jumped to 47.3 percent and 40 percent so far in January. Meanwhile, the Jazz still give up the most free throws per shot attempt, and, most disturbing of all, they've settled in at 27th in defensive rebounding rate. The latter trend is especially disturbing, because Utah ranked fifth in that category last season, meaning their defensive rebounding has collapsed much more dramatically than we should have expected given the loss of Carlos Boozer (a better rebounder than either Al Jefferson or Paul Millsap).

In fact, only seven teams since 1973-74 have seen their place in the league's defensive rebounding hierarchy (as measured by percentile rather than raw rank, given the changing number of teams in the league) drop further in one season than Utah's has so far, according to Basketball-Reference.

A deeper look at Utah's defense suggests the problem lies in the pick-and-roll — and specifically in its inability to stop dribble penetration at the top. An exhaustive look at video points to, primarily, the inability (or reluctance) of Millsap and Jefferson to jump out aggressively and cut off ball-handlers before they turn the corner. For whatever reason, both prefer mostly to sag back as Williams chases point guards over screens.
via
The Point Forward » Posts Monday Musings: Defensive issues mute
Jazz «.
In case you're missing the theme, here, it's that the Jazz are playing terribly. The gap, though, is that in years past they would surge in January and February, then fall back to the pack and be easily dismissed in April. January is not the time to be surging. April is. Jerry Sloan has until then to get things straight. If he doesn't, or if the Jazz wind up in the
Lakers
' side of the bracket, it's going to be yet another predictable, easily-dismissed exit from the playoffs in the first or second round. The list is pretty simple:
Shore up the pick and roll defense, getting Al Jefferson more in tune with the defensive principles and awareness he needs
Commit to the kind of effort they gave on the glass early on the season.
Resolve the shooting woes from the perimeter, finding some option among the plethora of wings they have available.
Get everything in tune at once.
But at least they won't be trying to fix these problems now without Deron Williams.