What Sunday's Celtics-Lakers game means for the Boston Celtics in the first rematch since the 2010 Finals.
Posted by Matt Moore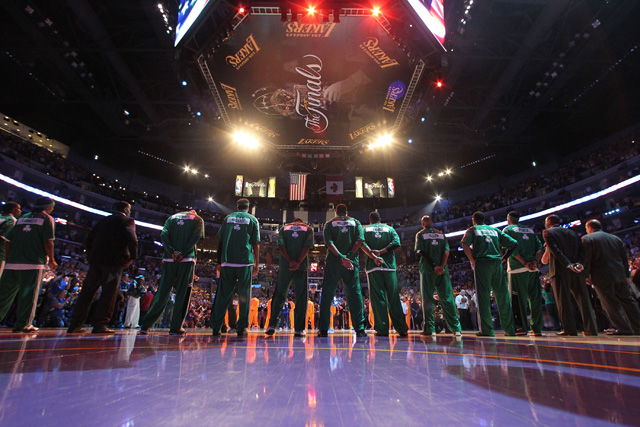 On Sunday, Boston travels to L.A. for Modern Celtics-Lakers XX. The 20th time these two have met since the 07-08 season (twice in the regular season for three years, plus 13 playoff games) will still represent what many feel is a clash of the two best teams in basketball currently, as well as the resumption of the oldest and greatest rivalry the sport has ever known. With Los Angeles at 33-13 and the Celtics 35-10, the two look every bit ready to see each other once more in the Finals, even with challengers like San Antonio and Miami in their path.
This rivalry extends beyond the history and legacies of their franchises, though. There's a genuine dislike between the two teams, even if they share a mutual respect. The Celtics' brutally tough, bullying defense and marksman like precision clashes organically with the
Lakers
' smooth ball movement and overpowering height and athleticism run through the Triangle. Doc Rivers' explosive motivational coaching approach runs in contrast to Phil Jackson's zen-like trust in his players and press-conference tweaking. And at the end of it, they just don't like one another.
But as the two meet in the rare regular season game that actually does seem to matter (although afterward the loser will predictably dismiss such claims), what does this matchup actually mean for Boston?
Just for Kicks
Kevin Garnett
has never been one to back down from an opportunity for dramatics. As much as his reputation is for visceral toughness and unbridled intensity, he is also a showman. While the legitimacy of his stanchion-smashing, cobra-weaving, "Anything is possible" lunacy is up for debate, he does know how to send a message in outright terms. Nothing proves that like the shoes it was announced Garnett would be wearing for the game. Yes, his shoes. Have a look, courtesy of
Nice Kicks
/
Aaron Knows
and
The Basketball Jones
: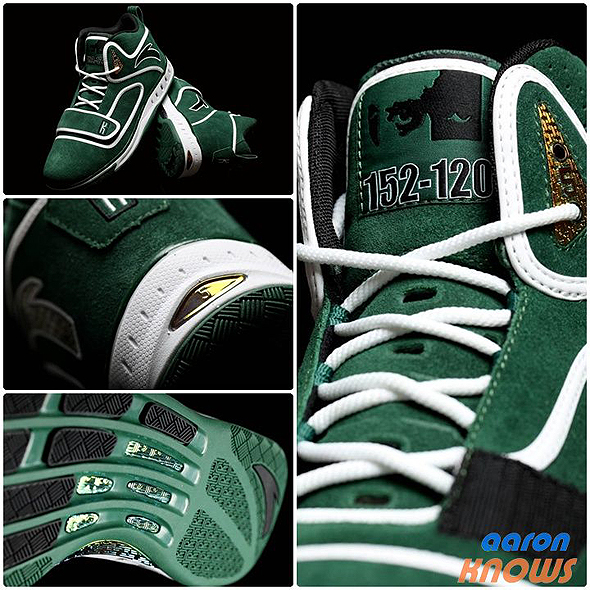 On the tongue there? That's the Celtics all time record against the Lakers, 152-120. The shoe is delicately titled "Beat L.A.." Kevin Garnett had shoes produced for
one
game. If that doesn't serve as proof of Garnett's intentions in this game, nothing will. It's just his feet, but in basketball terms, that's as good as wearing a T-shirt that reads "I plan on kicking your face in because that's what my team does to your team." It's an outright signal of the Celtics' entire attitude, which isn't just "We're going to win" but "We're going to win because we're better than you, our franchise is better than you, and our collective being in every way is superior to yours."
It's why the Celtics don't really respect Orlando, nor do they show real signs of respect for anyone. It's part of their own personal code of conduct. But it's amped to another level with L.A. That will always be part of it as the players seek to carry on the legacy of the game built into the rivalry. But it's even more prevalent because of how things were the last time these two stepped on a court together.
Revenge and the Art of Maniacal Maintenance
Losing to the Lakers in the Finals was devastating for the Celtics. Losing a championship series is hard for any player, but these are the Celtics, a group of veterans trying to make good on promises to themselves as well as their fans that they would collect multiple rings once among players of their caliber. Beyond that, though, losing to L.A. creates a sense of failure beyond just disappointment. You've let down the players that came before you, the players who managed to beat the Lakers, who protected that legacy (despite the Lakers having won quite a few of their own throughout the years). It's the darkest of all places, as Garnett told WEEI this fall about his mindset after Game 7:
"Very dark, to be honest, dark. 'Just leave me alone, let me be my myself. I don't want to deal with anything right now. Let me just be in a dark place.' Just the way I replay the game over and over in my mind, trying to get a resolution to some type of place to where you can settle with it. I never found it, but that's what it is. I say it's fuel to the fire. [Expletive? (Bleeped completely out] ."
via
Sports Radio Interviews » Blog Archive »
Kevin Garnett
Goes To A Dark Place In The Off-Season
.
Paul Pierce
wasn't in a great place afterward either, when WEEI spoke to him about it:
How long does it take a competitive person like you to get over a seventh-game loss in the NBA (Finals)? A week? A month? Ever?

"I still haven't gotten over it. It's tough. Because you envision back, and say, 'If we could have done this different, that different in the game, it would have been a different outcome.' So, it's hard. You think about the what ifs and all of that. I don't think you ever forget it."

What's the process? Do you go in your bedroom for a couple of days and sleep, and then don't shave for a while, or don't bathe, and then finally come out of the shell?

"I didn't talk to people for a long time. I didn't watch any basketball for a long time. I sort of kind of did go into a shell. I didn't want to leave the house. I didn't even want to go out and eat for a while, because you just felt that bad about the loss. But then as I got back into the gym and working out, I just used it for motivation and just sort of loosened up from there."
via
Sports Radio Interviews » Blog Archive »
Paul Pierce
on Losing Game 7
.
This is just speculation, but I'm betting
Glen Davis
' reaction was to eat a muffin. Or a boar whole, or something. Regardless, things were pretty rough for the C's after that loss.
Nothing will really provide the Celtics with a satisfied feeling of revenge short of winning the championship, preferably over the Lakers this spring. But this game is a chance to send a message. It's an opportunity to go into the Lakers' house and show them that they are still every bit as tough as they have been, and even tougher with their improved depth. It's a chance to illustrate that they are the ones in control of this rivalry, even after last spring, and that even though this is just a regular season game, they can dominate at will.
This isn't about just showing L.A. who's boss, it's about testing themselves. Being 35-10 means little to them because they don't care about beating the
Nets
, or the
Bobcats
, or even the
Magic
or
Heat
. They want to show they can beat the Lakers. Everything else is just a means to get there.
And in part, the Celtics want the opportunity to show that they're right:
Kendrick Perkins
was the reason they lost.
Man Down, Ring Down
Losing Kendrick Perkins before Game 7
hurt
. One of the Celtics' biggest advantages against the Lakers as opposed to nearly every team in the league is their ability to counter the Lakers' length with their own interior defense. Perkins isn't a behemoth like
Andrew Bynum
, but what he lacks in height he makes up for in toughness, physicality, and savvy. Losing him meant the Celtics lost just enough of an edge down low.
At the end of the matchup considerations, though, is this: the Celtics were without a starter for Game 7 of the Finals. That's enough to prompt anyone to keep an excuse at the back of their minds, even if they'll publicly give the other team credit. Perkins means a lot to this team, and even in limited minutes now that he's back, you can see what he brings the team.
Sunday is an opportunity to showcase what they look like at full-strength, should they stay healthy till then (which is far from guaranteed, this is the Celtics, after all). Even with
Shaquille O'Neal
nursing an injury and
Jermaine O'Neal
still struggling through his knee problems, this is the Celtics, at their core. Sunday provides an opportunity to show the difference in the Celtics with and without Perkins. Perkins wasn't even expected to be available for this game, supposedly out another week.
But of course Tuesday he pops up healthy. That's how this works. Some, like myself, never questioned that Perkins would be back for this game. This game matters to him. You'll have a hard time keeping him out of a game like this, even in the regular season. Because this is like a dress rehearsal.
Trial Run
There's no way to duplicate the intensity of the Finals, but this will be as close as it will get for a while, at least until the Lakers visit Boston in a few weeks. And it's a chance to test things for future reference. How will Shaquille O'Neal do against Andrew Bynum? How will
Nate Robinson
do as backup against
Shannon Brown
or
Steve Blake
? What can a healthy
Marquis Daniels
do against
Ron Artest
?
These are the questions that will be in Doc Rivers' mind, as they try and get a regular season win, but also try and figure out some things to rely on should these two meet again. There's no way to block it out, though they may try. "It's just another game" will likely be a refrain at practice and shootaround. Don't be fooled. This is the setup, the first act of the 2011 chapter of Lakers-Celtics. Let's draw the curtain, and see what happens.