A look at some of the numbers prior to Sunday's showdown between the Boston Celtics and Los Angeles Lakers at Staples Center. Posted by Ben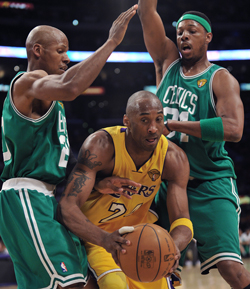 Golliver.
On Sunday, the Boston Celtics travel to Staples Center to take on the Los Angeles Lakers, renewing the most prestigious rivalry in the NBA. The two teams have combined to win the last three NBA Finals, with Los Angeles making three straight appearances and the Celtics making two of the last three.
This year's teams are another year older, but still have to be considered the favorites to win their respective conferences. As of Friday afternoon, the Celtics were 34-10, in first place in the Atlantic Division, while the Lakers were 33-13, in first place in the Pacific Division.
Here's a look at five numerical odds and ends in advance of Sunday's showdown. The results often reflect an amazing balance between the team's two premier franchises.
Premier Teams On Both Ends
The Celtics and Lakers are regarded as two of the deepest, most complete teams in the NBA, and the general
efficiency numbers
bear that out pretty clearly. The teams are two of just five teams who appear in the top 10 of the NBA's offensive and defensive efficiency tables. The Lakers are No. 1 on offense and No. 8 on defense, while the Celtics are No. 10 on offense and No. 2 on defense. The other teams that appear in the top five in both categories: championship contenders Miami, Orlando and San Antonio.
Boston's offensive efficiency is dragged down a bit by its turnovers and is arguably better than the No. 10 ranking suggests. For example, the Celtics actually lead the league in effective field goal percentage and true shooting percentage, thanks to their ability to get easy buckets, get to the free throw line and knock down three-pointers.
For the Lakers, their defensive efficiency number, while still good, is dragged down a bit by their average defensive rebounding rate, attributed in part to the absence of center
Andrew Bynum
and other assorted big man injuries.
Overall, the Celtics and Lakers are third and fourth respectively in
efficiency differential
, which measures the difference between their offensive efficiency and the efficiency they allow opponents while playing defense. The only two teams better: Miami and San Antonio, other title contenders.
Age
Jerry West
recently kicked off a discussion
about the advancing age of the Lakers, saying some of the players are getting "long in the tooth."
A
recent Hoopism.com study
confirmed that West was on to something, as the Lakers and Celtics were second and third oldest teams, respectively, when it comes to the average age of their players that actually see court time.
For Boston, the fogeys are
Ray Allen
(35),
Kevin Garnett
(34)
Paul Pierce
(33) and, to a lesser degree,
Shaquille O'Neal
(38). For Los Angeles, the elder statesmen propping up that number are
Derek Fisher
(36) and
Kobe Bryant
(32) with
Ron Artest
(31) and
Lamar Odom
(31) on their heels.
With the exceptions of O'Neal and Fisher, all the players listed are still contributing this season without much meaningful decline in the quality of their play. Age is proving to be a virtue here.
Big Men
A major storyline entering this weekend are the recent returns of big men Andrew Bynum and
Kendrick Perkins
, after both underwent offseason knee surgery. Bynum has been in action for Los Angeles since Dec. 14 while Perkins made his return
earlier this week
.
Last season, both players have become more important statistical producers in these head-to-head match-ups, as Bynum dropped 19 points and 11 rebounds in LA's win last year and Perkins poured in 13 points and 14 rebounds in Boston's win.
In five games against Boston since 2007-2008, Bynum is averaging 10.8 points and 7.6 rebounds. In six games against the Lakers since 2007-2008, Perkins is averaging 10.2 points and 9.3 rebounds. Sunday's game could turn on which of these bigs is able to win the match-up in the middle. Perkins, it should be noted, is still being worked back into Boston's rotation, and played just 20 minutes on Thursday night against the Portland
Trail Blazers
.
Recent History
In the most recent chapter of Lakers/Celtics, kicking off in 2007-2008, the two teams have split their six regular season meetings 3-3. Both teams are 2-1 at home. Over the six-game stretch, Boston has out-scored Los Angeles by 22 points, 585-563, or roughly 3.7 points per game.
Last year's meetings were both relatively low-scoring affairs and played to a cumulative draw, as each team escaped with a one point victory on the road. The Lakers beat the Celtics, 90-89, in Boston on Jan. 31. The Celtics beat the Lakers, 87-86, in Los Angeles on February 18th. It cannot get any closer than that.
Coaches
To further reinforce just how even these teams have been since 2007-2008, take a gander at the coaching records for the two coaches. Lakers coach Phil Jackson is 212-80 in regular season games while Celtics coach Doc Rivers is 213-78. Over the course of nearly 300 regular season games, that's just one win and two losses separating the two. Ridiculous.
In the playoffs, Jackson enjoys a slightly larger edge: holding a 46-21 record since 2007-2008, topping Rivers' 38-26. Head to head, however, Rivers holds a one-up on Jackson, leading 7-6.