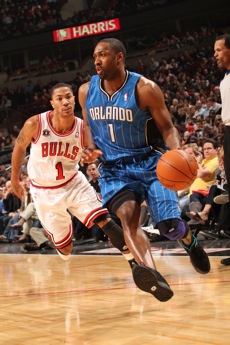 Posted by Royce Young
Gilbert Arenas
has a pretty substantial knee injury in 2007. And while he's fully recovered from it, sometimes it acts up on him. Some days, it's just tighter than others.
But why? The weather, that's why.
Arenas told the Orlando Sentinel,
"Really high humidity and places that's cold, it gets in my joints. You know how they say, 'I know when it's going to rain'? Well, I know when it's raining. In Indiana, it was bad. The joint swells, so it stays stiff, so I can't really get the flexion that I need. But as soon as we landed here, it was fine."
There's nothing actually wrong in terms of structure with his knee but Arenas has said before that he has some arthritis in the joint. It's one of the reasons he lacks the same explosion he used to have.
Of course Orlando is classified as a warm and humid subtropical climate, so maybe it's not the ideal spot if humidity affects his knee. But surely it's better than the cold temperatures in Washington D.C. this time of year.
So if we've learned anything, Arenas probably doesn't ever want to play in Minnesota and if his knee had a preference, it would probably enjoy Phoenix where it's warm and dry. Kind of like every other older player that has health issues.