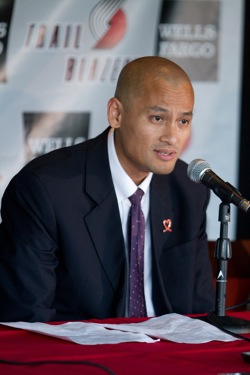 Posted by Royce Young
The Trail Blazer roster is probably going to see a change before the Feb. 24 trade deadline. And I don't mean more people are going to get injuried. Well, fingers crossed on that.
But general manager Rich Cho told The Oregonian
that the Blazers are definitely in the market to make a move.
"I'd say the chances are pretty good," Cho said of making a deal. "We are being pretty active, put it that way."
Well, that begs the question: What
type
of move? Something small to keep trying to win with the current core or something big like moving
Andre Miller
,
Marcus Camby
or maybe even
Brandon Roy
?
Give us more Rich, please.
"This team is an average to a little-above average team, and our record reflects that," Cho said. "And there's not going to be any quick fix to make it into a championship team. This is going to be a process ... But I think you have to think short term and long term. We are not going to sacrifice a long-term goal for a short-term benefit."
See, now that's interesting. Cho openly admits that the team is kind of mediocre in its current state. Which is certainly is. With all the injuries, the Blazers sit in eighth at 25-22. They aren't built to move up much higher in the standings right now. The team is average and they just aren't going anywhere right now.
But just like his former boss Sam Presti, Cho uses the word "process," which is a good word, especially for a team like Portland. There isn't an eay answer for them. Cho is in a tough spot. His franchise player has two bad knees,
Greg Oden
, well, you know, and plus anyone on the roster is at risk of hurting themselves at all times.
Yet the team is still in the playoff hunt. So Cho has decide if the current core plus an extra piece or two can make a push now or if he needs to start dealing things like Camby and Miller for young assets. Either decision won't be universally popular, but he's going to have to pick. The team can't stay as-is. Because like Cho said, it's not going anywhere that way.