Boston Celtics coach Doc Rivers has been fined by the NBA following his ejection in a Friday night game against the Phoenix Suns. Posted by Ben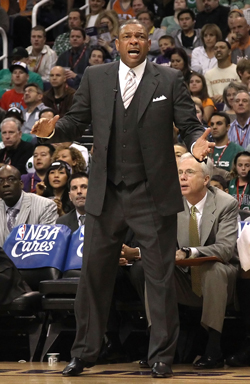 Golliver.
We've already noted this weekend that Friday's game between the Boston Celtics and the Phoenix Suns ended wildly, with Celtics forward
Kevin Garnett
being
ejected following a skirmish set off by a low blow
on Suns big man
Channing Frye
.
Well before that fourth quarter brouhaha, though, Celtics coach Doc Rivers was also ejected from the game. On Sunday, the NBA announced that Rivers had been fined for his actions following the ejection.
Boston Celtics head coach Doc Rivers has been fined $15,000 for failing to leave the court in a timely manner following an ejection, it was announced today by Stu Jackson, NBA Executive Vice President, Basketball Operations.
The incident occurred with 4:33 remaining in the second period of the Celtics' 88-71 loss to the Phoenix Suns at US Airways Arena in Phoenix on January 28.
ESPNBoston.com describes
the scene surrounding the ejection.
With the Celtics trailing 40-25, Rivers was ejected late in the quarter after arguing with referee Steve Javie during a timeout. Rivers was hit with one technical foul and kept arguing with Javie, pointing to the official and his head as he yelled across the court. Rivers got in a few more choice words before finally walking off the court.
All the arguing was to no avail ultimately, as the Celtics wound up losing to the Suns, 88-71.
On Sunday, Rivers and the Celtics have a big opportunity to turn the page, travelling to Los Angeles for a marquee match-up against the
Lakers
. Here's a look at CBSSports.com's preview coverage of the 2010 NBA Finals rematch.