The Boston Celtics ran away from the Los Angeles Lakers during the second half of Sunday's game. Posted By Ben Golliver.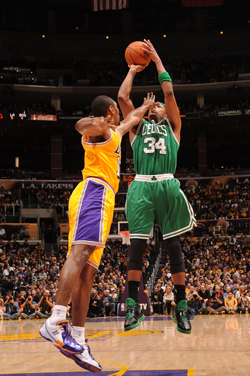 The Los Angeles Lakers
held a halftime lead
, but the Boston Celtics ran away with the game in the third quarter, winning the first rematch of the 2010 NBA Finals, 109-96, in Los Angeles.
Paul Pierce
netted 14 points in the first seven minutes of the third quarter to pull Boston back into the lead, and a Lakers offense that had been powered by
Kobe Bryant
simply couldn't keep pace, scoring just 18 points as a team in the third quarter.
Down the stretch, Bryant pulled the Lakers back to within single digits -- 98-89 -- with a jumper with a little under four minutes to play, but the Celtics slammed the door convincingly, going on a 9-2 run over the next three minutes to ice the game.
The story of the game was Boston's defense. Other than the 33 point explosion from Los Angeles in the second quarter, the Lakers scored 21 points in the first quarter, 18 points in the third quarter and 24 points in the final period. Bryant finished with an impressive 41 points, but his backcourt mates were virtual no-shows, as
Steve Blake
and
Derek Fisher
combined for just nine points on nine shots.
Ron Artest
was also a non-factor, scoring just three points on 1-10 shooting.
Pierce carried most of the offensive load for the Celtics, finishing with 32 points, five rebounds and three assists.
Ray Allen
finished with 21 points,
Kevin Garnett
added 18 points and 13 rebounds, and
Rajon Rondo
notched a double-double with 10 points and 16 assists.
With the win, Boston improves to 36-11. The Lakers drop to 33-15, losing their second consecutive game.
The Celtics continue their current road trip with a game against the
Kings
in Sacramento on Tuesday night. The Lakers next play against the Houston
Rockets
on Tuesday in Los Angeles.