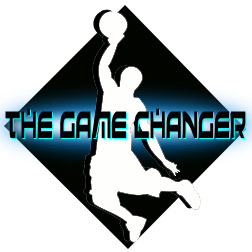 The Boston Celtics defeated the Los Angeles Lakers in LA while the Miami Heat ruffled Kevin Durant's feathers, pulling out the road win in Oklahoma City. Also, Eddie House did a ridiculous dance, Kevin Garnett was bleeding profusely from the head and the best of an amazing night from Blake Griffin. Posted by Ben Golliver.
Each game is made up of elements which help formulate the outcome. Monday through Friday, we'll bring you the elements from the night before's games in our own specialized version of the game recaps. It's not everything that happened, but it's an insight into what lead to the results you'll see in the box scores. This is
the Game Changer.
THE BIG ONE: CELTICS TAKE IT SERIOUS, MAKE IT PERSONAL
All the numbers
leading up to Sunday's showdown between the Los Angeles Lakers and the Boston Celtics said it should be a nail biter, but the Celtics managed a fairly commanding road win. Simply put, they looked like the more focused, cohesive team on both ends of the floor and their defense turned it up another notch in the second half, after allowing a mini-explosion from Lakers star
Kobe Bryant
in the second quarter.
To say that Boston is the better team right now is not a stretch at all. Neither is saying they wanted this game more. That starts with Celtics forward Kevin Garnett, of course, who has Boston's all-time record against the Lakers stitched into his shoes,
as we noted earlier this week
, and who,
according to Yahoo! Sports
, refused a Lakers' ballboy's autograph request, saying, "You got a better chance of catching Bin Laden."
It's been a chippy road trip for the Celtics, who jawed with the Blazers on Thursday night before nearly fighting with the
Suns
on Friday. Garnett had his head bloodied in the first half by a
Pau Gasol
elbow (see picture below), but it didn't matter, as Boston's balanced attack and focused and disciplined team defense was more than enough to overcome the Kobe Bryant show.
Boston's four All-Stars all showed up (
Paul Pierce
had 32, Garnett had 18 points and 13 rebounds,
Ray Allen
had 21 points on just 12 shots and
Rajon Rondo
scored 10 points and dished out 16 assists) and so did the Celtics bench, outscoring the Lakers', 28-24. That Boston was able to
slam the door
in crunch time so effectively is what will please coach Doc Rivers the most, as he's still without a fully healthy
Kendrick Perkins
. As a playoff preview and mid-season litmus test, this is everything Rivers and Celtics fans could have asked for.
How concerned should Los Angeles be? There's reason for consternation, as we've all been to this movie before. Bryant -- who finished with 41 points but zero assists -- doing it all and then attempting to do it all when he doesn't feel like he's getting the support he needs. It's a problem LA has overcome before so it's certainly not insurmountable, but LA's overall intensity, especially in the second half, wasn't fit for the task.
Of course, it's January, but it's hard to keep perspective when there is so much pride on the line.
GO-GO-GADGET LINES OF THE NIGHT:
Kobe Bryant:
41 points, three rebounds, zero assists on 16-29 shooting in 38 minutes in a Los Angeles Lakers home loss to the Boston Celtics.
Paul Pierce:
32 points, five rebounds, three assists, one block, one steal in 41 minutes in a Boston Celtics road win over the Los Angeles Lakers.
Kevin Durant:
33 points, 10 rebounds, one assist, four steals on 7-20 shooting in 40 minutes in an Oklahoma City
Thunder
home loss to the Miami Heat.
LeBron James:
23 points, four rebounds, 13 assists, four steals, three blocks on 7-14 shooting in 40 minutes in a Miami Heat road win over the Oklahoma City Thunder.
Dwight Howard:
20 points, 20 rebounds, two assists, one steal, two blocks on 9-13 shooting in 26 minutes in an Orlando
Magic
home win over the Cleveland
Cavaliers
.
DON'T MISS:


EDDIE HOUSE CANS THREE-POINTER, DOES SILLY DANCE:
There was a very interesting sequence near the end of Sunday's game between the Oklahoma City Thunder and the Miami Heat. Trailing by one point with roughly 40 seconds to play, Miami Heat guard missed a jumper, but the Heat corralled the offensive rebound. With the game on the line, Heat forward LeBron James considered taking a potential game-winning attempt, but instead passed to Heat guard Eddie House, who was wide open near the right corner.
House buried the three -- saving James a whole bunch of second-guessing -- and then decided to do a somewhat inappropriate dance meant to reflect the size of his genitalia to celebrate his accomplishment. Have a look at the tape.
WHIMSY:
During the first half of Sunday's game between the Boston Celtics and Los Angeles Lakers, Celtics forward Kevin Garnett took an elbow to the head from Lakers big man Pau Gasol, and the blood was streaming all over his face. Pretty intense, even by KG's standards.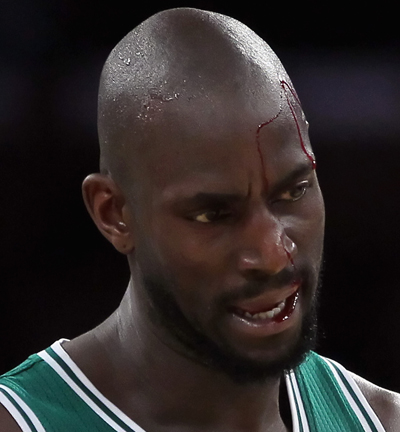 HIGHLIGHT REEL:
Here's the best of Blake Griffin from the weekend. Both plays come from Saturday's game between the Los Angeles
Clippers
and the Charlotte
Bobcats
, which Griffin's Clippers won, 103-88.
First up is a 50-foot alley-oop from guard
Randy Foye
to Blake Griffin. Enough said.
Next up: an insanely pretty reverse spin move that led to a lay-up plus one. Not sure how many players in the NBA can pull this off, but it's a very, very short list that doesn't include any other big men. My goodness.
FINAL THOUGHT:
The only thing standing in between the Boston Celtics and the NBA Finals right now is complacency. They are, by far, the team that people least want to face in a seven-game series right now, and they're not even fully healthy.