The New York Knicks will reportedly hire former Denver Nuggets executive Mark Warkentien. Posted by Ben Golliver.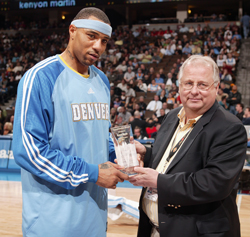 Here's some news that figures to kick up another solid round of
Carmelo Anthony
trade rumors: the New York Knicks are reportedly set to hire former Denver Nuggets vice president of basketball operations Mark Warkentien as a consultant to president Donnie Walsh,
according to Yahoo! Sports
.
In a move that undoubtedly has roots in the pursuit of Carmelo Anthony, New York Knicks president Donnie Walsh has reached an agreement with former Denver Nuggets general manager Mark Warkentien to join the Knicks as a high-level consultant, league sources told Yahoo! Sports on Sunday.
The hiring of Warkentien is expected to be a prelude to a larger and more specific front-office role in the future, but that's still an issue to be worked out. As the Knicks work to acquire Anthony through a trade this season or in free agency this summer, there's no minimizing Warkentien's institutional knowledge of the Nuggets organization and ownership, as well as a strong relationship with Anthony.
Ken Berger of CBSSports.com
confirms the Yahoo! report
and further explores the hiring's implications on the Anthony trade talks.
The New York Daily News
reports Anthony's reaction to the news
: "As far as I'm concerned that's a great addition to their organization."
Warkentien is perhaps best known for landing point guard
Chauncey Billups
in a blockbuster 2008 trade for
Allen Iverson
. He has also
established a reputation as a negotiations expert
, having studied the art of deal-making extensively at Harvard.
Nuggets owner Stan Kroenke is said to be a demanding man to work for, as he runs the Nuggets by focusing on payroll management and profit maximization to a degree many owners do not. Pitching a deal with the scope and magnitude of a Carmelo Anthony trade takes a keen sense for what motivates an owner, and Warkentien's direct knowledge of those motivations would absolutely be an asset that could pay immediate dividends for the Knicks.
Still, this move feels like more than just "Melo-or-bust" for New York. Warkentien was named NBA Executive of the Year for 2008-2009 and was one of the biggest available names among the group of former NBA GMs, alongside Kevin Pritchard, Danny Ferry and Steve Kerr. Warkentien brings roughly 20 years of NBA experience to the table -- including a long record of scouting -- and the network of relationships that go along with that experience.
During the four seasons that Warkentien headed up the Nuggets, Denver won 45, 50, 54 and 53 games. So whether or not Warkentien helps the Knicks land Anthony prior to the trade deadline, his hiring represents another sign that the Knicks franchise, a team on the rise, is looking for people to help transform it into a true title contender.