Dallas Mavericks forward Dirk Nowitzki is considering playing in Germany if there's a work stoppage next season. Posted by Ben Golliver.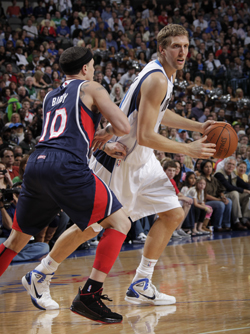 A number of NBA players, particularly those without guaranteed contracts, have hinted that they will head abroad if there's a work stoppage next season, but none with the superstar status and international clout of Dallas Mavericks forward Dirk Nowitzki.
Scout.com translates
an article from the
German newspaper BILD
in which Nowitzki and one of his advisors state that the German forward would continue returning to his homeland to ply his craft if a lockout shut down next season.
In an article in the German newspaper BILD (www.bild.de), Dirk Nowitzki shared his thinking on what he might do in the event the NBA is not playing in 2011-12, saying, "Rather than do nothing at all for a year, I would come to Germany [to play]." His closest advisor, Holger Geschwinder, elaborated further on their approach: "We would be negligent if we weren't analyzing our choices."
According to the article, those choices center around three teams with ties to Dirk: Bamburg (which is near Dirk's hometown of Wurzburg), Alba Berlin (which has the biggest arena, best tradition, and whose coach is a close friend of Dirk), and Bayern (which has two players who are close to Dirk, and whose coach is the coach of the German national team).
Talk about a worst-case scenario for the Mavericks and owner Mark Cuban. Nowitzki has not only proven to be an MVP candidate for the Mavericks when he's been on the court, Dallas looked lost and played he's missed time this season due to a knee injury. Nowitzki is, perhaps more than any other NBA player, The Franchise.
And that's not just on the basketball court. Nowitzki is Dallas's highest-paid player at $17.3 million this season and his contract stretches until 2013-2014, with annual raises that will eventually earn him $22.7 million, fully guaranteed, three years down the road. The Mavericks are on the hook for $62 million over those three years and Nowitzki, who has been incredibly durable as a pro, is already 32 years old.
In other words, Nowitzki is really good, really critical, really expensive and starting to get up there in years. If you're an NBA owner looking for a combination of attributes that you would absolutely not want a player to have if he was planning to go overseas and play during a work stoppage, that would be the exact combination. The risk of injury is always there, but in this case would be magnified tenfold given Nowitzki's skillset, salary cap number and importance to the Mavericks.
Update
: Citing salary cap expert Larry Coon,
ProBasketballTalk notes
that this is almost certainly misguided, wishful thinking on Nowitzki's part and that it would be extremely difficult to extricate himself from his NBA contract, even during a lockout and/or work stoppage.
Hat tip: HoopsHype.com.