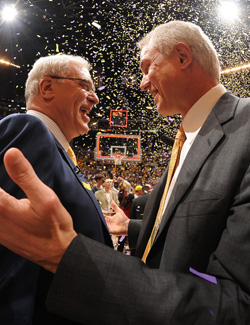 With Lakers underperforming, GM Mitch Kupchak says he "may have to look into a trade."
Posted by Matt Moore
The Lakers are 1-5 against top echelon teams. Phil Jackson couldn't care less.
Kobe Bryant
is beyond angry. And General Manager Mitch Kupchak? He's talking T-word. Trade. From the
Los Angeles Times
:
"Yes . . . I may have to look into a trade, but I'm not saying we have "talked to other teams yet, Kupchak said. "We have not been playing up to our level and I dont know why. Maybe its complacency. Im not sure."
via
Lakers GM Mitch Kupchak says hes thought about making a trade - latimes.com
.
A trade? By the defending champs? Could this be happening? Even with the measured and cautious words being tossed around by Kupchak, that's a pretty stunning development even if the Lakers are simply considering a trade. This is a team that has looked every bit like a Finals contender, unless they've been facing an elite team this year. It's also a team that's notorious for not taking teams seriously, having gone seven games with a Yao-less
Rockets
squad in 2009, having a terrible second half last year, and letting the
Suns
push them in the Western Conference Finals using a
zone
, for crying out loud. You have to think this is just an emotional quote from Kupchak revealing a frustration with the team's play, or at least a Jackson-like motivational tactic.
Even stranger than the idea of the Lakers
needing
to make a trade is the idea of what trade they would be able to make. Every Laker of consequence with any value, contract or skill-wise, has at least two more years left on their deals. Kobe Bryant and
Pau Gasol
are obviously not even in this discussion. So what are the next options?
So while Kupchak may be looking to try and upgrade his team, Michael Heisley and Chris Wallace aren't walking through that door. Even with the
Nuggets
being dragged slowly towards the inescapable black hole in the reality that they have to trade
Carmelo Anthony
, and the Sixers wanting to offload Iguodala to make room for their rebuilding project, or the Suns in near full-on blow-up mode, no one's going to be looking to the Lakers to cash in. The Lakers are on top, and have spent a lot to get to the top. They're loaded with talent, but it's not talent that garners a lot on the market.
After all, how do you possibly get great return on trading members of the most talented team in the league? Instead, I think the Lakers will take the Phil Jackson approach. Sit back, relax, coast through the next four months, and flip the switch when it counts. They've done it before. They'll do it again.