Do Rajon Rondo, Kevin Garnett, Ray Allen and Paul Pierce all deserve to represent the Boston Celtics during the 2011 NBA All-Star game? Our NBA crew debates that question. Posted by Ben Golliver.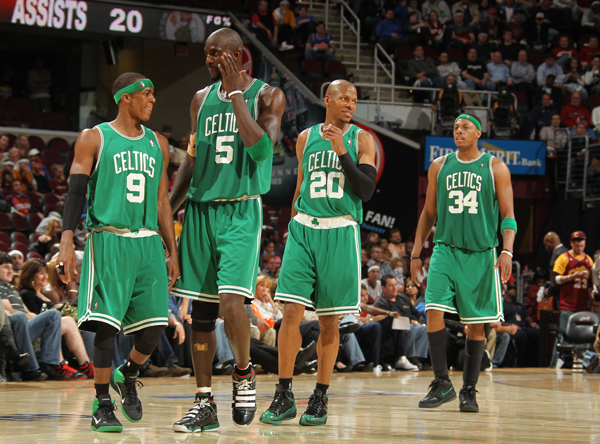 All-Star reserves will be announced on Thursday, and par for the course, the coaches have some tough decisions. We'll be debating the merits of each choice the coaches will have to make. These debates don't necessarily reflect the actual opinions of the writers. Think of it as opposition research, only if we opposed everyone. Our second debate? Do all four Celtics deserve to make the cut?
Sugar Ray Isn't Sweet Enough
by Matt Moore
I'll go with three, exempting Ray Allen.
We can all agree Rondo is a lock. I think it's safe to say Kevin Garnett has punched his ticket with his season so far. So if we're not sending four, which isn't a bad idea, it comes down to Paul Pierce vs. Ray Allen. It's true that Allen's been phenomenal, hitting 45% from the perimeter. I've got no issue with him being in the three point contest... versus himself. He's an incredible weapon for the Celtics, having a stellar year.
But the fact remains that Pierce is the better overall player, even this season. Pierce is actually shooting slightly better than Allen from the field (51.2% for Pierce vs. 50.5% for Allen), slightly, and also shooting above 40% from the perimeter. Additionally,Pierce's role in the offense makes it more difficult to maintain that kind of efficiency. Pierce drives into traffic more often, takes step-back jumpers more often, and creates off the dribble with contested shots more often.
Pierce's total contribution is higher as well, as he rebounds more efficiently and assists and turns the ball over at a similar rate as Allen. Beyond all this, though, Pierce is more tapped in to the emotional core of the Celtics. Allen is the cooler head to prevail, the friendly statesman. But Pierce is the bridge between Garnett's unbridled intensity and Allen's cool, calm personality. He's the franchise player of the C's and his play and player identity is worthy of All-Star status yet again this season.
The Captain Stays Home
by Royce Young
There's no doubt Rajon Rondo is an All-Star. The only question with him is if you think he should rightly be the starter in this game.
Garnett? His numbers aren't huge but his value to the Celtics is immeasurable. His defense, his leadership and his ability to take over each game he's in makes him not just an All-Star, but an underrated MVP candidate.
Ray Allen and Paul Pierce have both been completely fantastic this season but here's where we have to draw a line in the sand. Four Celtics just can't be on this team. Not that it's not deserved but four players from one team is a bit much. (Plus, three from Miami and four from Boston? That's more than half the roster!)
So the question comes to, Pierce or Allen? Who is more deserving? To me, it has to be Ray Allen.
Allen's 3-point percentage is impressive enough (45 percent) but it's become more than that for him. He's an underrated defender at shooting guard and is a big reason Rondo is an All-Star. Allen doesn't have a lot of years left on his career, but this is no doubt one of his finer campaigns. He's hitting every big shot, playing well within the system and is such a dynamic weapon for one of the league's very best teams.
It's not about numbers here for Allen, it's about his efficiency. Pierce is absolutely deserving, but since I've decided for some reason that three is enough, the nod just has to go to Allen.
Send Them All
by Ben Golliver
The Eastern Conference, by and large, is a cyst upon the NBA yet again. 5.5 good teams (The
Knicks
get half credit for
Amar'e Stoudemire
) does not make a conference, and in filling out the All-Star roster, I'm all for pretending that the other 9.5 teams don't exist. Yes, I realize this co-signs the superpower movement that the Miami
Heat
kicked in to high gear, but in a popularity contest like the All-Star game, it's an acceptable lesser of two evils when compared to rewarding players that can't carry their teams above the pile of mediocrity.
The Boston Celtics aren't just above mediocre, either. Despite injuries to key players, they're the best and most feared team in the conference, by far. They play basketball the right way on both ends -- unselfishly on offense, intensely on defense -- and all of the key pieces make it work. (It's a testament to their overall talent level and dedication that they're able to keep chugging along when one of the key four players goes down.)
Point guard Rajon Rondo should arguably be an All-Star starter, so he makes the cut without question. Ditto for Kevin Garnett, who has played excellently, if not always with class. And I'm struggling to come up with an argument against Pierce or Allen. Both Pierce -- with 19.2 points, 5 rebounds and 3.2 assists -- and Allen -- 17.2 points, 3.6 rebounds, 3.1 assists -- have solid statistical cases. Both have started every game for Boston and have logged more minutes than anyone save Rondo, who is much younger than either of them.
Whether its team success, past playoff triumphs, raw numbers or star power, the Celtics have every argument covered. All four deserve to go.