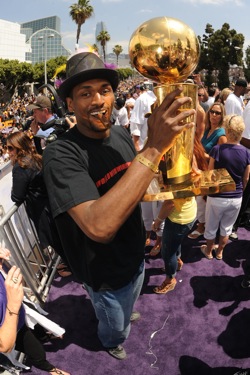 Posted by Royce Young
The
Lakers
are reportedly
looking to make a trade.
General manager Mitch Kupchak said it, Phil Jackson said and even
Magic
Johnson is talking about it. The defending champs are in the market for some help.
Problem is for the Lakers, they traded away maybe their best asset in
Sasha Vujacic
's expiring contract and after that, don't have a lot of tradeable assets in the bank. Surely they don't intend to move a key part like
Andrew Bynum
or
Lamar Odom
. So after that, who are they going to trade?
Luke Walton
?
Theo Ratliff
? I don't think the
Grizzlies
are going to fall for a second Gasol trade this time around.
But what if someone
wanted
out? It doesn't seem probable because who would want to leave the Lakers,
but according to ESPN.com,
a prominant player wouldn't mind being the one to move out.
Ron Artest
.
Now before we get all ahead of ourselves, bear in mind that Artest lives in the moment. It doesn't take a whole lot for him to change his mind and for his emotions to kick up. So in two weeks, he may feel differently.
According to the report, Artest's two major problems are that he's afraid he'll be the scapegoat for any of the team's problems. He feels like he's always the dartboard for criticism and blame. Artest takes and sometimes makes bad shots, but it's easy to forget his stellar defense.
The second is that Artest will at some point pipe up about his role within the Laker offense. Artest has had to take a big hit in his production and usage with the Lakers, but he was willing to sacrifice there, obviously. Artest is averaging a career-low 8.1 points per game and
as Artest's brother Daniel said on Twitter,
is being typecast to only shooting the corner 3.
Matt Barnes
is injured right now but played relatively well behind Artest at small forward. So there is a little depth there if the Lakers want to get serious about this.
In early December there was a public story about Jackson's public, harsh criticism of Artest in practice. Artest reportedly confronted Jackson about it and since then, reportedly are on good terms. It's more about Artest having to watch
Kobe Bryant
and
Pau Gasol
hog all of the offense more than any displeasure with Jackson by the sound of it.
But with three years and $22 million remaining on his contract combined with the fact he's 31 and putting up career-low across the boards, what's the market really for Artest? Who is going to be interested in a deal like that? That's the question the Lakers are asking themselves right now. It's hard to say if they're actually interested in shaking up a championship team or if this is just a motivational tactic. Whatever the case, on Feb. 2, Ron Artest is looking for an exit.