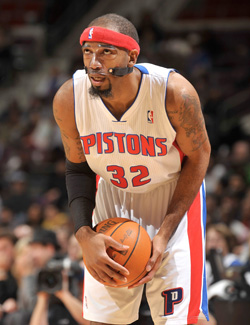 Rip Hamilton has shut off talks with Dumars as well as Kuester as disgruntled wing's situation worsens.
Posted by Matt Moore
As the Rip turns...
Okay, so last we left the Rip Hamilton saga, Hamilton was simply not playing, and
Ken Berger deemed the relationship
to seem "irreparable." That seemed to be the source of the conflict, and Hamilton isn't the only player having issues with Kuester in Detroit. Well, Hamilton's still not playing, but now from
Pistons
.com comes a revealing element. Hamilton apparently is refusing to talk to Joe Dumars as well, which is a whole other level of dysfunction. From a Q&A with Piston.com's Keith Langlois:
Jessica (Detroit): Why doesn't somebody with the Pistons, either John Kuester or Joe Dumars, sit down with Rip Hamilton and talk to him about why he's not playing? Rip has suggested that he sees it as a lack of respect. Doesn't he deserve better after all he's done for the Pistons?
Langlois: It isn't accurate to say that no one has talked to Rip, Jessica, despite the perpetuation of that portrayal. Rip has been quoted as saying that no one has told him anything. If that's true in the strictest technical sense, it doesn't paint an accurate picture of the reality. He had not responded to requests to talk, by both Joe Dumars and John Kuester, as of late last week, since being taken out of the rotation. He has been given many chances to sit down and talk about his current situation. He had taken part in conversations with Joe D, at least, in between the times he was removed from the starting lineup and the recent move to take him out of the rotation. Dumars has had numerous conversations, as well, with Rip's agent, Leon Rose, who has been apprised of the situation on a regular basis. I'm not sure what more should be expected of reasonable adults.
via PISTONS: Pistons Mailbag - Monday, January 31, 2011.
Well, then. Not talking to your coach who hasn't exactly lit the league on fire and has alienated half of his roster is one thing. But ignoring the GM who helped build a title around you is a wholly different one. Even if Hamilton has legitimate beef with how the Pistons have handled his situation, and he does, not talking to your GM is only going to exacerbate the situation. Hamilton was at least a marginally sympathetic figure to fans and observers before, having to deal with a coach who doesn't value your play when you've given so much to the franchise. But if he's making things so difficult for Dumars by not even speaking with him, he's ruining whatever credit he has left and is ruining his trade value.
If there's any value at all.
As Ken Berger noted in the Post-Ups above, Hamilton simply doesn't have any value on the open market. His contract is too long and too large for a player of his diminished talents. The only hope for the Pistons to avoid a buyout is to find someone desperate for a wing upgrade. But with Hamilton so clearly sabotaging the Pistons' efforts for whatever selfish reason, the Pistons will have zero leverage with interested teams who know they will get a shot at him after a buyout should things continue on this path.
Things have gone from bad, to worse, to ugly, to horrific for the Pistons and Hamilton relationship. How much worse is it going to get?