LeBron James drops a historic performance with 51 points, 11 rebounds, and 8 assists against the Magic Thursday night. We break down what made it so great and its place in history.
Posted by Matt Moore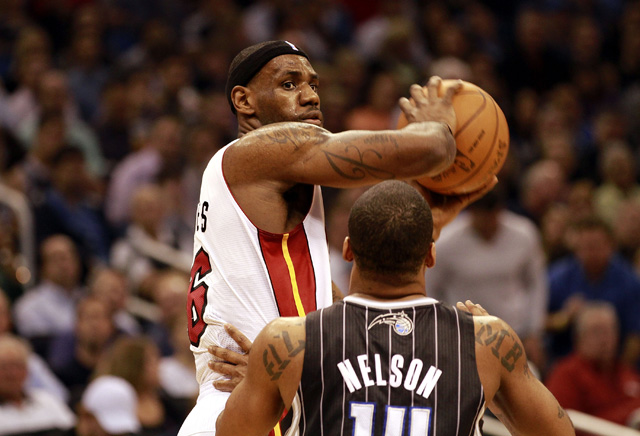 Just a reminder: LeBron James is incredibly good at basketball. Love him, hate him, despise him, curse the ground his designer shoes walk on, think he's a quitter, an egomaniac, a spoiled child, fine. But do not forget
what he reminded the league Thursday night
. He's an amazing player who is able to take the game over in every phase like no one else.
51 points for King James, and it was a barrage from all over the floor. Check out the shot chart from
our GameTracker
.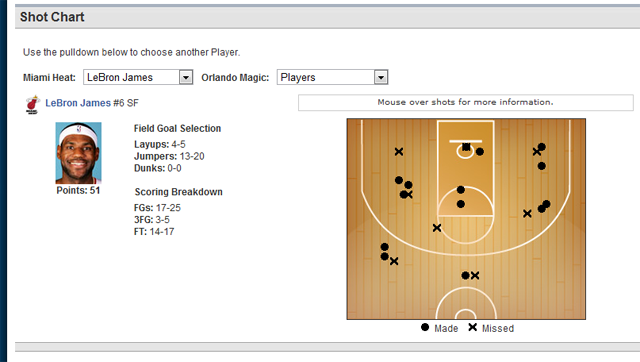 James took 25 shots and only missed eight of them. He only missed three free throws. 3-5 from the arc, and he nailed more jumpers than he missed. That's a remarkable barrage, topped only by the fact that he also dropped in 11 rebounds, and eight assists which netted 19 points (three 3-point assists and five 2-point assists) . So of the
Heat
's 104 points, James himself created 70 points, or over 67% of the team's total offense. The very definition of high-usage, while also facilitating and getting his teammates involved. It was the most complete game we've seen, and it came in a huge win over a division rival.
James had said earlier in the week that this would be "fun"
after the comments in preseason
by the Magic, their coach, and GM. He certainly showed that tonight. What's particularly become deadly about James on the Heat is that he no longer is gassed by the time the game gets into the second half. Instead he's able to execute all the parts of his offense, the transition, drive, and his perimeter game, which somehow gets stronger. When you've got LeBron James finding open three point shots on the perimeter and the rest of his team can hit water from a boat, then you've got something special.
No one game will determine the MVP. But in a race as close as this year's has been, games like this will stick in the minds of voters. Because what James did Thursday against the Magic? It's simply not believable.
*********************
James' performance was
among his all-time greatest performances
. It was his highest rebound total in a 50-plus-point game and the second highest in rebounds plus assists in a 50-plus-point game. Historically, it was only the fourth 50-plus-point, 10-plus rebound, 8-plus-assist game in history, with
Jordan, Bryant, and Wade owners of the other three
. It's the second highest field goal percentage in such an effort, behind Jordan's 20 of 28 performance in '89. And with Wade and Bryant's both coming in a triple-overtime and double-overtime game respectively, Jordan and James are the only two players in history to complete a 50-11-8 game in regulation. What's more? This was the slowest-paced game of those historic efforts, with an estimated 88 possessions*, while
Bryant's was at 90
. This wasn't just a herculean effort, it was the very model of modern efficiency.
And this was against the Magic,
who host the fifth best defense in the league
. This was on a Thursday night nationally televised
road game
against a division rival and championship contending competitor, in which the second best player on his team left for a long stretch with a back contusion. Granted his third best player is better than most team's best player, but the point should still be made. If you want to talk about stepping up, this was a huge one. It may matter nothing in the context of LeBron's recent playoff history, but this game is well worth your respect. It was truly one of the all-time greats. He didn't put in one of the top scoring, rebounding, or assist performances. He just made his impact felt in every phase of the game, constantly, consistently, and emphatically.
(For more on the game, check out GameChanger, where the Magic couldn't put it away despite James' performance, and McDyess had the last laugh on the Lakeshow.)
*NOTE: The estimated number of possessions via the Four-Factors Chrome Extension provided 88.0 possessions. Basketball-Reference this afternoon puts the pace at 88.5. That's still incredibly slow, and slower than Bryant's, but I wanted to note it in full disclosure. The differential results from a very minor shift in the formula for how possessions are estimated.