Leon Rose, agent for Carmelo Anthony, is reportedly telling teams his client will only sign a contract extension with the New York Knicks. Posted by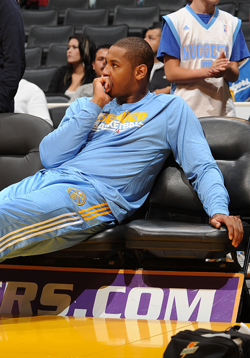 Ben Golliver.
It's been a slow week or two in the Carmelo Anthony trade talks, which is unusual as the clock is ticking down pretty quickly to the trade deadline, which is now less than three weeks away. Why the slowdown? The most obvious explanation: Anthony only wants to be traded to the Knicks and the Knicks are smart enough to wait until this offseason rather than trading for him.
Yahoo! Sports reports
that Anthony's agent, Leon Rose, is indeed telling NBA teams that Anthony has his eyes set on the Big Apple.
Several sources told Yahoo! Sports that Carmelo Anthony's agent, Leon Rose, has recently begun informing teams that the All-Star forward is interested in signing a contract extension with only the New York Knicks. The stance has weakened the Denver Nuggets' leverage in trying to deal Anthony, not only to other teams, but also the Knicks.
The sources said the Knicks don't feel pressed to present a substantial trade offer to the Nuggets because they think they can also sign Anthony after the season if he opts out of his contract, as expected. "If you're New York, you just sit and wait until the offseason," one general manager said. "That's where it's likely to go. Why give up assets to get him now when you can wait and get him next season?"
Said another source: "If 'Melo is telling the world he wants to go [to New York], why fight so hard to get him? [Knicks president] Donnie Walsh knows this."
This report falls into a well-established narrative that dates
back to December
, when CBSSports.com's Ken Berger reported on Melo's Knicks-or-bust stance, a position that was
reiterated by his sources in January as well
. Of course, Anthony also
called playing in his hometown
his "ultimate dream" in a January interview too.
So how would Anthony get to the Knicks via trade prior to the deadline? It would take some help, as it's accepted as fact at this point that Denver Nuggets management is not enthralled with New York's available trade pierces.
On Friday, Berger reported
that the Minnesota
Timberwolves
, a team loaded with tons and tons of free cap space, may have emerged as a potential facilitator for a trade between the Denver Nuggets and Knicks.
While the Nuggets realize they will have to seriously engage the Knicks in trade talks for Anthony before the Feb. 24 deadline, a third team already has stepped into the on-deck circle as a potential facilitator if talks between Denver and New York ever gain traction. That team, sources say, is the Timberwolves, who are willing to absorb Eddy Curry's $11.3 million expiring contract in a three-team scenario that would send Anthony Randolph to Minnesota and Anthony to New York. In this scenario, which one executive involved deemed "unlikely," the Wolves would simply waive Curry after the trade. Depending on the timing, Curry would likely have only five paychecks remaining for a total of $4.7 million. So taking on Curry would involve little or no cost to Minnesota; if the Wolves could negotiate a $3 million buyout covering the remainder of Curry's salary, that tab would be fully picked up by the Knicks, who could send as much as $3 million cash to Minnesota in the trade. But Curry's $11.3 million cap number would help make the complicated trade math work in a three-team deal. The Nuggets aren't interested in Curry's expiring contract, sources say, and the only other team with enough cap space to take it on without sending back equal salary is Sacramento -- which has yet to be invited into any Knicks-Nuggets discussions. If the Knicks and Nuggets aren't going to do business before the deadline, perhaps leaving Anthony in free-agent limbo heading into a new collective bargaining agreement, then Minnesota would still be interested in Randolph -- and would be willing to give up a low first-round pick and absorb Roger Mason ($1.4 million) into their cap space in a one-on-one deal.
The ball is squarely in Denver's court. Their choices: re-assess what New York has to offer and accept the discount, pray that the New Jersey
Nets
execute an about-face and re-enter trade talks, sell Melo for pennies on the dollar to a contender that doesn't require an extension to pull a trade, or hold onto him and watch him walk away for nothing in free agency this summer. All things considered: putting something together with the Knicks still seems like the best, most realistic option.