The Utah Jazz accepted the resignation of coach Jerry Sloan, defended their franchise from talk of turmoil and handed the head coaching reigns to assistant Tyrone Corbin during a press conference Thursday. Posted by Ben Golliver.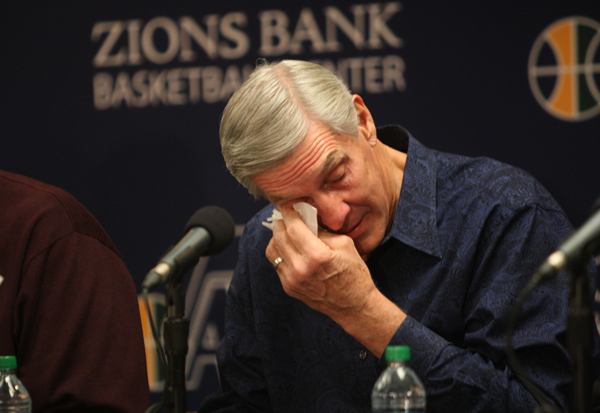 During
a nationally-televised press conference
held at at Zions Bank Basketball Center on Thursday, the Utah Jazz announced that they had accepted the resignation of legendary head coach Jerry Sloan, who had coached the team for 23 years. Sloan's long-time assistant coach Phil Johnson also stepped down.
"Today is a new day," Sloan said. "I get this over with, I know I'm going to feel much better. My time is up. It's time for me to move on."
Sloan was flanked by a number of Jazz executives, including President Randy Rigby, GM Kevin O'Connor, CEO Greg Miller and Gail Miller, the widow of late owner Larry H. Miller. Each took a moment to thank Sloan for his service to the franchise.
"The greatest compliment that we can give is that you gave us your best," Rigby said. "You made us a better team, a better organization and a better community.
"I know all good things must come to an end," Gail Miller said, fighting back tears. "Today is the end of an amazing era ... Jerry had become an institution as far as this franchise is concerned ... I will always remember you as the solid and stable foundation that the Utah Jazz was built on."
Earlier Thursday,
reports swirled
that a rift between Sloan and the team's All-Star point guard,
Deron Williams
, had precipitated Sloan's decision to abruptly leave the bench. O'Connor, Greg Miller and Sloan all denied that was the case.
"I'm sure you're going to hear a lot of things about why or where and everything else," O'Connor said. "But up until about 10 minutes ago we were still trying to talk both Jerry and Phil out of leaving."
Greg Miller made a point of saying that walking was Sloan's decision alone: "Nobody pushed Jerry or Phil out. No players pushed him out, Kevin didn't push him out, an aspiring head coach didn't push him out and I certainly didn't push him out. I've loved and respected Jerry for as long as I can remember ... I have great respect and admiration for Jerry and I will miss him."
Miller repeated O'Conner's statement that the Jazz had actively worked to change Sloan's mind. "This morning, when we met with Jerry as a family he informed us that the time had come for him to do that," Miller recounted. "As much as I hated hearing that, I have to respect that it's his decision and his life. I assure you that all of us that were in the room threw everything we had at him to try to get him to stay."
Sloan said the decision had been building for some time. ""I thought about it a few days ago, and it just seemed like this is the time to do it ... It's just a matter of me deciding it was time for me to leave ... I try not to make a big deal out of most things, anyway. Go forward. "
Age played a role in his decision. "My energy level has dropped off a little bit," Sloan admitted. "I think it's time someone else gets a chance."
To underscore this point, Sloan said there would be no comeback: "No, I'm not looking for another job. My wife has a job for me when I get home."
Shortly after the press conference, Jazz forward
C.J. Miles
hinted on Twitter
that there had been a disagreement recently. "Man ... I still can believe it actually went down I was sure that it was gonna be squashed today and he wouldn't do it."
Asked specifically whether any confrontation with players had factored into the decision, Sloan did acknowledge that he's had confrontations in the past but didn't divulge any specifics or confirm any of the speculation. "I've had confrontations with players since I've been in the league," Sloan said. "I've coached a number of guys that I've had confrontations with. Those things are minor ... that's the way it is."
Greg Miller made a point to stand behind his organization's coaching staff now and in the future. "It's extremely important for the players to know that we support the coach," Miller said. "Anything less than full support of the head coach in my opinion is a breeding ground for mayhem. So as long as I have anything to say about it, the coach of the Utah Jazz will have my full support, and I speak for my entire family when I say that."
Rigby then announced that Jazz assistant coach Tyrone Corbin would take over as the team's head coach. ""Following the legacy of Jerry Sloan will be no easy task," Rigby said. "However, we're honored to announce today also that Tyrone Corbin will be the new head basketball coach of the Utah Jazz."
The news was met with mild applause and Corbin appeared uncomfortable given the day's historic implications. "This is a bittersweet moment," Corbin said. "While it's a great opportunity for me, it's a bitter moment for me because I will miss these guys a lot ... I look forward to the opportunity but I don't think this time right now should be about me, it should be focused on these two guys, because they deserve it."
After the press conference wrapped, NBA commissioner David Stern issued a statement on Sloan's resignation. "Few people have epitomized all the positives of team sports more than Jerry Sloan," the statement read. "A basketball lifer, Jerry was as relentless in his will to win on the sidelines for the Utah Jazz as he was as an All-Star guard for the Chicago
Bulls
. In over two decades as a coach, he taught his players that nothing was more important than the team. His most impressive qualities were his leadership and his extraordinary ability to encourage his players to subjugate their individual games for the benefit of the whole. Two trips to The Finals and over 1,200 regular-season victories more than validate his philosophy. Jerry moves on having established himself as one of the greatest and most respected coaches in NBA history. I and the rest of the NBA family wish him great success and happiness as he moves to the next chapter of his life."
-----------------
For more on Jerry Sloan's resignation...