CBSSports.com's Ken Berger reports that the Cleveland Cavaliers could be active trade deadline players. Posted by Ben Golliver.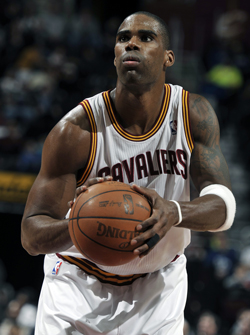 In his trade deadline roundup this morning,
CBSSports.com's Ken Berger noted
that the Cleveland Cavaliers could be an active player, with forward
Antawn Jamison
drawing interest from the New Orleans
Hornets
.
Hornets GM Dell Demps is said to be seeking a big man who can give New Orleans a little more post presence on the offensive end, and executives are openly wondering if Demps will be so bold as to chase Cleveland's Antawn Jamison. Despite financial struggles that have resulted in the team being taken over by NBA ownership, the Hornets have cornered the market in the area of taking on future money for short-term improvements (i.e. Trevor Ariza and Jarrett Jack). Execs expect them to make another such move, but getting Jamison from Cleveland -- either via a trade or an unlikely buyout -- likely would yield a flood of complaints from many of the 29 teams that essentially own the Hornets. Jamison is owed $15.1 million next season, an obligation that would seem to be pushing whatever boundaries are inherent in the league's cooperative stewardship of the franchise.
The Cavs would have to be incentivized to part with Jamison, who isn't said to be pushing an exit strategy and whose leadership will be needed to guide the Cavs through the rest of this trying season. The Hornets have the ability to seek more modest improvements, given their multiple trade exceptions and the $4.6 million they have to spend up to the luxury-tax threshold.
Yahoo! Sports also notes
New Orleans' interest in Jamison.
New Orleans has a strong interest in Cleveland Cavaliers forward Antawn Jamison, but no team seems willing to trade for the two years, and $28 million left on his contract. Cleveland has shown no desire to negotiate a buyout on Jamison's contract, and sources said Jamison isn't going to pressure the issue.
It's more than reasonable for Cleveland to want to be rid of Jamison. He was last year's band-aid, a deadline move to push the Cavaliers over the top in the arms race for Eastern Conference supremacy. In the past year, Cleveland's roster and outlook have flipped 180 degrees, as forward
LeBron James
skipped town, the team has suffered through an NBA-record losing streak and now must understake a full-scale rebuild.
Getting off of Jamison's contract - $13.4 million this year, $15.1 million next year - would be ideal for Cleveland, but it's not their only potential option. As Berger notes, they have an excellent trade deadline chip in the form of the trade exception created by James' move to Miami.
The Cavs are aggressively testing the waters to see what kind of assets they can expect to accumulate by volunteering to use their $14.6 million trade exception from LeBron's departure as a parking lot for other teams' unwanted contracts. Cleveland is seeking to use that cap space to acquire draft picks and young players -- a sound strategy, especially considering that the Cavs can use all the room without putting themselves in luxury-tax jeopardy.
One possible scenario for using the trade exception would be to accept salary from a team that's currently a luxury tax payer but is close enough to the tax line to get under. Two teams in that situation are the Portland
Trail Blazers
and Houston
Rockets
. The great thing about using an exception at the deadline is that the Cavs would only have to pay the remaining money on any contract they trade for while the team trading the contract gets to enjoy having the player's full cap number come off their books. Often, teams trading a player in such a scenario are able to cover the remaining salary owed to that player in the form of a cash payment, leaving the team holding the trade exception free of financial commitment. Clearly, using exceptions at the deadline is by far the best time to use them from a financial standpoint.
Even if the Cavs are unable to hit a home run and escape Jamison's contract, they can still hit a solid double to the wall if they are able turn that trade exception into a first round pick or even multiple second round picks. Any additional asset is helpful during a rebuild. Unfortunately for Cleveland, both Portland and Houston are run by new-school GMs that value their draft picks and will likely try to drive a hard bargain. In this case, though, the potential financial benefits should be fairly powerful, and it's fair to say that the Cavs would be letting a golden opportunity pass by if they can't find a way to use their exception.