NBA commissioner David Stern addressed the media in a press conference on Saturday at NBA All-Star Weekend. Posted by Ben Golliver.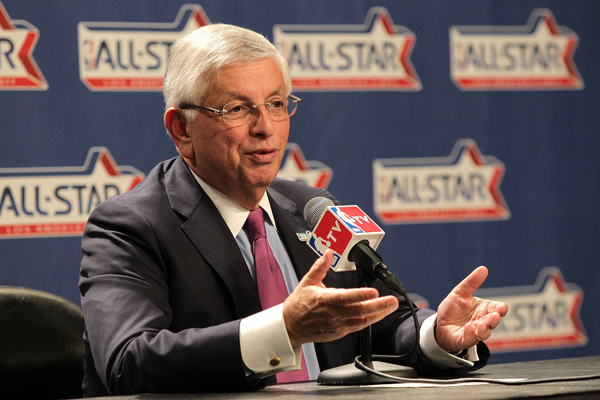 NBA commissioner David Stern lauded the current health of his league on Saturday at All-Star Weekend and spoke positively of developments in collective bargaining agreement negotations between the league and the players union, but acknowledged that there is still significant work that needs to be done.
"My lead is, the game is in great shape. It's never been better," Stern said. "I think it's fair to say that we and the players have each made proposals to the other. We have each expressed to the other our dissatisfication with each other's proposals. And at yesterday's meeting, I think in a very positive vein, we each agreed, the union and the teams agreed that you know everything was available to be discussed, and that we would set up a series of meetings and discuss away so that by the time the agreement currently in effect expires on June 30th, we will hopefully be able to assure our fans that we did all we could possibly do to have a replacement agrement in effect, and that's our intention, to work as hard as possible to cause that to occur."
Stern said that "hopefully" a work stoppage could be avoided but that "it's possible" one will occur.
Later, Stern was asked to compare the distance between the owners and players during this negotiation to the labor negotiation in 1999, which ended in a lockout and partial work stoppage. "We had a huge gap back then and we have a huge gap now. But you work hard to close it. And I think we have the capacity to do it."
Multiple times, Stern noted that his goal is a league with better competitive balance. "We want a sustainable business model that enables 30 teams to be able to compete for a championship that fairly compensates our union members who are currently the best-paid union members in the world, and after the agreement that we hope to consummate, they will remain the best-paid union members in the world in a league that is more competitive and hopefully profitable."
Stern was asked whether he would reduce his salary to $1 if the two sides could not reach a labor agreement, as NFL commissioner Roger Goodell has pledged recently. Stern said: "Last time, I ddin't take any salary. I think a dollar would be too high in the event of a work stoppage."
Here's a summary of the key talking points presented during the question and answer portion of Stern's remarks.
Nature of labor negotiations: Stern said that the two sides have reached a consensus that Stern and players association president Billy Hunter fully understand where each other are coming from. "IF the owners asked Billy to represent us, he could do it; and if the players asked me to represent them, I could do it."
Progress of labor talks: Stern noted that the union "agreed to talk about some things that they said were nonnegotiable" and that both sides agreed during Friday's meeting that they were "willing to talk about everything."
Agreement on losses: Stern said that the players union now generally agrees on the financial losses presented by the league's owners. "There's no disagreement about the numbers. There's a little intramural disagreement about certain items." Those items include interest and amortization. Union president Billy Hunter issued the following statement on Saturday night following the press conference's conclusion. "There has been ongoing debate and disageement regarding the numbers, and we do not agree that the stated loss figures reflect an accurate portrayal of the financial health of the league."
Revenue sharing: Stern said he expects a "robust revenue sharing plan" to emerge "at the same time as we make a new Collective Bargaining Agreement." He noted that "our teams are in broad general agreement that there has to be more robust revenue sharing."
Stars teaming up in big markets: Stern said re-iterated his goal to create a business model that would support all 30 teams being able to compete for a title. Stern said that teams shouldn't have to spend into the luxury tax to compete for a title in the new system. "We don't think your ability to pay taxes to have a roster should be a part of the competitive landscape."
Franchise tag: Stern said that it "wouldn't surprise" him if a franchise player designation, which would help keep star players in their original market, emerges during CBA negotiations but that "it has not yet been put on the table."
Contraction: Stern said that contraction, or eliminating current franchises to improve the financial state of the league as a whole, was "not currently on the table." However, he said a push for contraction is popular among a portion of the league's owners. "That sentiment is out there. It's not a majority sentiment."
Expansion: Asked if there would be additional teams added to the league, Stern said: "There is not going to be expansion at this time or frankly in the foreseeable future."
Donaghy Scandal: Stern was asked to discuss the latest revelations regarding disgraced referee Tim Donaghy, which raise the question of whether Donaghy fixed games. Stern said the league would continue to review any new allegations but didn't have any new information to discuss this weekend.
Sacramento Kings: Stern said the league would continue to allow the Kings to determine their future after the league's attempts to help the team secure a new building did not result as hoped.
New Orleans: Stern said the NBA and the New Orleans Hornets are "doing very well with the expressed and real support that Mayor Landrieu and Governor Jindal are giving us ... and we expect it to propel the club to success." Stern said he felt confident in the team's future in New Orleans.
Detroit Pistons sale: Stern said he would meet with prospective buyer Tom Gores and that he expected a resolution to the ongoing negotiation "within the next week." He also noted that "every indication is that there will be a deal."
Kansas City : Stern said there has been "some dialogue" about using AEG's NBA-ready stadium in Kansas City but that "there doesn't seem to be an ownership group for that city."