Highlights and lowlights from the 2011 NBA All-Star Game. Posted by Ben Golliver.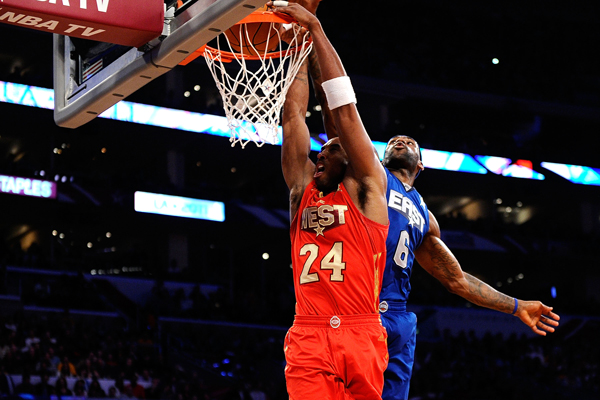 The Western Conference prevailed over the Eastern Conference, 148-143, in Sunday's 2011 NBA All-Star Game at Staples Center in Los Angeles, CA. Here's a look at some of the highlights and lowlights from the evening.
Most Valuable Player – Kobe Bryant
From the opening tip, Kobe Bryant was playing just a touch harder than everyone else in the game and clearly looked like he was gunning for his 4th NBA All-Star MVP. Truth be told, he didn't have much competition. He had the most points, the best dunks and the home court advantage. The West's second half force-feeding of Bryant got a quiet Staples Center crowd going and the win sealed the deal. Bryant finished with a game-high 37 points, 14 rebounds, three assists and three steals in 29 minutes. He received a standing ovation when West coach Gregg Popovich pulled him from the game with less than a minute to play. He was voted MVP immediately following the game, tying him with Bob Pettit for most career NBA All-Star Game MVPs.
Least Valuable Player – Kevin Love
Kevin Love might be the most valuable player on the Minnesota Timberwolves, but on Sunday night he was better as a towel waiver and hand clapper than as a scorer or impact rebounder. His limitations – athleticism, lift, height for his position – will never be more glaring than in an NBA All-Star Game. Love finished with two points, four rebounds and one assist in 11 minutes.
Best Moment – Kobe Bryant dunks on LeBron James in transition
As the West looked to pull away in the third quarter, LeBron James tried to shift the momentum by foolishly attempting a chasedown block from behind as Bryant coasted in for a transition dunk. 'Bron got up, but Bryant got up higher, throwing down a two-handed dunk with force to many oohs and aahs from the Lakers fans in attendance. (The dunk is pictured above.)
Worst Moment – Dwight Howard hard fouls Kevin Durant
I get that the paint has to be protected and nobody wants to be in a post, but a third quarter drive from Kevin Durant ended in a massive collision when Dwight Howard met him high off the ground with full force. The resulting crash to the ground had people gasping, but Durant shook off the hit and headed quietly to the free throw line.
Most Thoughtful -- Drake
During a halftime show cameo, rapper Drake joined Rihanna on stage for a rendition of their hit "What's My Name?" Drake flipped up the lyrics to wish Rihanna a happy birthday as Sunday was her 23rd birthday. Rihanna was later joined by an energetic Kanye West as well, making for a memorable and well-received halftime show.
Most Historic – Bill Russell
During a first half break in action, legendary Boston Celtics center Bill Russell was recognized for winning the President Medal of Freedom this week. Russell, who was wearing the medal, was cheered loudly by the crowd, a nice gesture considering the current Celtics were roundly booed when they entered the game.
Best Coaching Move – Doc Rivers
In the first half, East coach Doc Rivers subbed all four of his Boston Celtics – Rajon Rondo, Paul Pierce, Ray Allen and Kevin Garnett-- into the game simultaneously. What better way for a coach to show his appreciation for as team-first and ego-free group of All-Stars as you'll find?
Second Best Coaching Move – Gregg Popovich
During the fourth quarter, the Staples Center crowd started a chant of "We want Blake!" West coach Gregg Poppovich immediately obliged their demands. If Bryant is King of L.A., Griffin is surely first in line to take the throne.
Biggest Disappointment – Blake Griffin
In relative terms of course. After showing out big time in the rookie/sophomore game and making history in the Dunk Contest, Blake Griffin was a bit player on Sunday, looking a little bit tentative on offense and managing only a few moments of jaw-dropping glory. Griffin finished with eight points, five rebounds and five assists in 14 minutes.
Best Potential – Russell Westbrook
Of the first time All-Stars, few looked like they belong as much as Oklahoma City Thunder guard Russell Westbrook, who threw down a vicious dunk in transition, yanked his defenders around with crossovers and finished one move in the paint with an acrobatic lefty hanging flip shot. He will be a staple of future All-Star Games for years to come. Westbrook finished with 12 points, five rebounds and two assists in 14 minutes.
Most Overlooked -- LeBron James
Because his night slowly built up over the course of the game, LeBron James got lost in the early Bryant flurry and wasn't the game's headliner. But his supporting performance was still jaw-dropping and thunderous, his relentless drives to the rim ending with one monster dunk and a number of trips to the free throw line. When all was said and done, he finished with a gigantic triple double: 29 points, 12 rebounds and 10 assists in 32 minutes.
Best Technology – Mics
The in-arena sound was excellent throughout the night, but the best touch was the on-court microphones, which allowed everyone – even those in the upper deck – to hear scattered player conversations. Guys yelling "same" when two teammates went for the same rebound, "help" when someone didn't get back in transition and, of course, "come on" when a perceived foul wasn't called. The sound, combined with the stage lighting, made for an unforgettable live experience.
Star Tracker
Here's a nearly complete list of celebrities that were shown on the big screen during the game.
Gene Simmons, Justin Bieber, Stevie Wonder, P. Diddy, Spike Lee, George Lopez, Bruno Mars, John Legend, Mark Curry, Keri Hilson, Dustin Hoffman, Steven Tyler, Nick Cannon, Neyo, Warren Beatty, Julius Erving, James Worthy, David Robinson, Clyde Drexler, Darryl Dawkins, Dominique Wilkins, Rick Fox, Kanye West, Ellen Pompeo, Jack Nicholson, Derek Fisher, Shawn Stockman, Piers Morgan, Jason Sudeikis, Will Forte, Chris Tucker, Snoop Dogg, Noah Wyle, Ciara, Terrell Owens, Rihanna, Drake, Nicki Minaj, Robert Horry, Forest Whitaker.