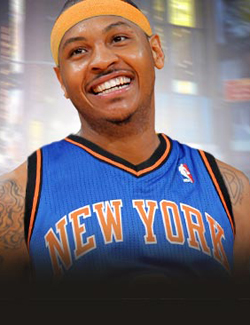 Carmelo Anthony is a New York Knick, and it's clear that he's been the one running the show from the beginning. But is that a good thing or a bad thing?
Posted by Matt Moore
It's over. It's finally over. Carmelo Anthony has been traded to the New York
Knicks
along with
Chauncey Billups
,
Shelden Williams
, and
Anthony Carter
for
Raymond Felton
,
Danilo Gallinari
,
Wilson Chandler
, and
Timofey Mozgov
, along with the Knicks' 2014 first round pick
according to Ken Berger of CBSSports.com
.
And for Melo? He wins. Beyond everything else, beyond the
Nuggets
' posturing and threats, beyong New York's cool stance which evaporated into dust, and beyond the desperate attempts by the
Nets
, including an embarassing crawl back into talks over All-Star Weekend, Carmelo Anthony won. He got what he wanted, to go to a major market and play next to a star in
Amar'e Stoudemire
. He got it how he wanted it, under an extension to provide him with financial security under a max deal. And he got it when he wanted it, before the new CBA could be put in place, improving chances that he'll get to hold on to as much money as possible.
It's day 236 of the Melodrama, and that's the last time we're going to use that phrase. Anthony has pulled off one of the most stunning coups by a player in recent history, and managed to only need eight months to get it done. So, good work there, Melo. Next time, throw us a bone and pull it off a little faster? Actually, we take that back. Don't ever do this to us again. Ever. Please. We're literally begging you.
This trade represents the extension of what started this summer with "The Decision" and
LeBron James
and
Chris Bosh
being wined and dined by executives with proposals, plans, and fan initiatives. We're in a new era, and the players are running the shots. Perhaps that more than anything signifies the key clash involved in this summer's CBA talks. Anthony was able to not only demand a trade from a playoff team, but designate where he wanted to go, and have it done the season he wanted to go.
We'll never know for sure if Anthony was willing to leave the money on the table to go to New York had he not been traded, nor will we know if he would have accepted a trade to the Nets had the Knicks not gave in and essentially offered up everything but their own children in this deal. What we know is that Melo now joins Amar'e Stoudemire, and that in and of itself is exciting, and weird.
Carmelo Anthony has a usage rate of 32.5% of all possessions, while Amar'e has a usage of 31.7%. Those are obscene numbers for taking up possessions. The two are going to have to now work alongside the biggest stars they have ever played with. Melo wanted to be a big star on the big stage, but let's be clear. Amar'e Stoudemire did not go to New York to be a sidekick. We'll have to see how they work alongside together and how Melo adapts to the high pace of Mike D'Antoni's system which also emphasises ball movement. This isn't going to be seamless. Yes, Melo was acquired and yes, he is the star jewel they wanted to add (one of three, it would seem). But there is a degree of concern here and all that's
before we look at New York as a team
.
But all that's for another day. This is a big day of victory for Melo, for CAA, for Leon Rose, and the ever-expanding power of the William Wesley power base, who have just extricated an All-Star from his team and moved him to the team they wanted to move him to. You have to appreciate how Melo's handled all this, even if he started to crack at the end. He's managed not to get fined through this entire process. Think about that. All these questions, all this pressure, all this nonsense, and he managed not to get fined once for his comments. He also managed not to alienate the Nuggets into trading him somewhere he didn't want to go, and managed to secure meetings with Knicks ownership to make him feel good about the future.
Is this a good thing? We've got
Chris Paul
in New Orleans,
Dwight Howard
in Orlando, and
Deron Williams
in Utah. They're all capable of being free agents in 2012. And a pattern has been set. Sure, it was annoying for Melo for a few months, and hard on his team. But in the end, Anthony got what he wanted, and gets to reap the rewards of playing in a major market and all the endorsements that go along with it. The parties, the glamor, all of it. Of course, he may have set back his ability to win a title because of what was required to get him, but he won't be blamed for that. He'll get to enjoy it, as will his wife La La Vasquez, who has wanted this for a while.
Behind every man with an inflated sense of self worth is an ambitious woman seeking another television deal.
This is the ultimate empowerment of the athlete, to the degree of forcing teams into decisions they didn't necessarily want to make, and doing so on their terms. A dangerous precedent has been set for NBA players, where the way to win? Team up, even if it means forcing your team to walk the plank. That Denver managed to get out of this with a favorable set of assets is their good fortune, especially after the way they bungled this for six months. But it doesn't change the fact that Denver's now rebuilding, because Anthony wanted to leave. That's it. No complicated set of initiatives, no overwrought ideas of clashing philosophies, the Nuggets weren't looking to move in a different direction. Melo got what he wanted, when he wanted it, how he wanted it. Welcome to the new NBA landscape of player power plays.
Now we'll have to see if he's worth even a fraction of the drama (see, we told you we weren't saying it again) he's created for us.
Welcome to New York, Carmelo. Hope you're ready, because the pressure does not end now.
For more on our coverage of the Carmelo Anthony trade to New York, check out:
Ken Berger's report on the breaking deal.
Royce Young discusses the impact the deal has on the Knicks.
Ben Golliver hands out trade grades and winners & losers.