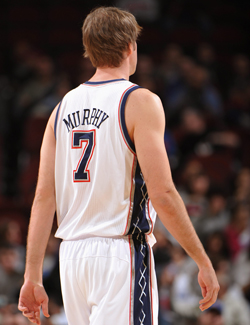 Posted by Royce Young
After the trade deadline, comes the buyout deadline. The two really go hand-in-hand. A lot of teams trade for a player that don't want at all just so they can buy them out, open a roster spot and save some money.
It's like the circle of life in the NBA. So far three big names popped up over the weekend for potential buyouts, with a couple new landing spots too.
Rasual Butler to Chicago:
The
Clippers
are trying to clean up some of the excess fat on the roster and they started by buying out forward Rasual Butler.
According to ESPN.com,
terms were reached Sunday for Butler to be bought out by the Clippers. He had a couple places mentioned for where he could go like Boston, Oklahoma City, Atlanta and New York, but it looks like he'll be inking with the
Bulls
.
The Bulls have been hunting wing help and while they went hard after
O.J. Mayo
, they came up short on getting him. Butler's not exactly the perfect piece or anything to get all excited about, but he is a veteran that can shoot and will likely make some sort of impact in the Chicago rotation. Last season he averaged he averaged 11.9 points and 2.9 rebounds, This season his numbers have sunk to 5.0 points and 1.9 rebounds and he's at 32.3 percent from 3.
Troy Murphy has Miami and Boston on target:
Initially, it was assumed the
Warriors
would buy out Murphy as soon as they got him from New Jersey. But as the deadline approached, the Warriors saw an opportunity to get another pick out of the forward. That didn't happen so as originally expected,
Murphy was bought out by Golden State.

A couple places have popped up as potential destinations for the left-handed power forward, but it appears to be down to Boston and Miami. New York was thought to be in the mix, but it doesn't appear the
Knicks
will pursue. The
Celtics
have been interested in Murphy since word of the buyout popped up, but the
Heat
are kind of a surprise contender for him.

Mike Bibby nearing a buyout:
It's not a certainty,
but as the Washington Post reports,
Bibby and his agent scheduled a meeting with the
Wizards
to discuss terms of a buyout. Bibby is an older veteran and likely has little interest in playing backup point guard on a lottery team. He was sent to Washington in a deal that brought the
Hawks
Kirk Hinrich
.
The Wizards reportedly tried to trade Bibby, who will earn $5.56 million this season and $6.21 million next year, as soon as they acquired him. The only way Bibby is getting out of Washington though is if he takes a major paycut. Boston and Miami are both said to be interested in pursuing, but they'll likely only hand out the veteran minimum to Bibby. So if he wants to latch on to a playoff team, he'll have to settle for less. Way less.