The Washington Wizards have reportedly bought out point guard Mike Bibby and he could be headed to the Miami Heat. Posted by Ben Golliver.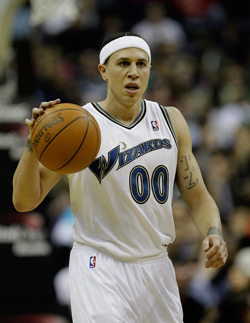 Last week
, the Washington Wizards traded point guard
Kirk Hinrich
to the Atlanta
Hawks
in a five-player deal that brought back point guard veteran Mike Bibby.
Monday morning
, we noted that the Wizards were getting close to buying out Bibby.
Monday afternoon,
Yahoo! Sports
and
ESPN.com
both reported that the Wizards completed their buyout of Bibby.
Yahoo! Sports reported
that the agreement included a big-time concession from Bibby: "Guard Mike Bibby agreed to give up entire $6.2 million salary for the '11-'12 season to get buyout with Wiz to play for winner, source says."
The Washington Post reported
that "Portland, Miami, Boston, San Antonio, the Los Angeles
Lakers
and possibly Denver are believed to have interest" in signing Bibby once he clears waivers.
Sam Amick reports
, however, that the Heat are the leader in the clubhouse.
Mike Bibby, who will reportedly reach a buyout with Wash. and give back more than $6 million for next season, intends to sign with Miami. He has to clear waivers first and there's the standard disclaimer that something could go awry, but his intent is to join the Heat. For protocol's sake, I obviously have a source. Just ran out of characters. In case that wasn't clear.
Bibby is a playoff-tested point guard who is averaging 9.1 points and 3.6 assists in 29.4 minutes per game this season. While he's no spring chicken, he's an upgrade over
Mario Chalmers
and
Carlos Arroyo
, Miami's two current options at the point.
The Palm Beach Post says
the Heat should make a run at Bibby.
He'd start here immediately. And his brother-in-law, Eddie House, is on the team. He's not close to what he was as a defender, and his assist totals have been modest the past few seasons. But he was shooting a career-high 44 percent from three. He's played in plenty of close and critical games, first with Sacramento and then with Atlanta. And, as was evident late in the loss to the Knicks (when New York could leave it to Chauncey Billups to take control), the Heat desperately needs another cool hand on the floor with LeBron James and Dwyane Wade, both of whom tend to force the action.
While this could turn out to be a great get for the Heat, the trade and buyout is already a definite positive for the Wizards, who were quietly one of the big winners of the trade deadline. Not only did they get out of Hinrich's $9 million contract this year and $8 million contract next year, they reportedly save $6.2 million of future money to Bibby, got a young prospect in
Jordan Crawford
and added a draft pick too. For a team that needs maximum flexibility and youth so it can build around franchise point guard
John Wall
, that's a pretty nice haul.