A roundup of all the latest buyout updates and signings from around the NBA after last week's trade deadline. Posted by Ben Golliver.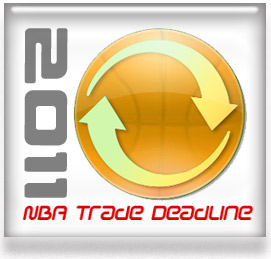 The blockbuster moves are out of the way now that the NBA's trade deadline has come and gone, but roster movement around the league continues as players are bought out or waived. This post will update throughout Monday with the latest updates on buyouts, waivings and signings.
(Latest Buzz)
Yahoo! Sports reports: "Troy Murphy has phone calls set with Pat Riley and Danny Ainge on Monday night, and source says 'still torn' between Miami and Boston." The site notes that a decision is expected "within the next 48 hours."
Guard Mike Bibby has reached a buyout agreement with the Washington Wizards and may be headed to the Miami Heat, according to multiple reports. Bibby was traded to the Wizards by the Atlanta Hawks last week.
The Miami Herald reports that Bibby-to-Miami isn't a done deal and that Bibby's agent, David Falk, says the the Boston Celtics and other are still in contention, calling the situation "really speculative at this point."
The New York Daily News reports that "there's a chance" Knicks forward Renaldo Balkman will be released, which opens up the possibility that the Knicks add Jeffries and an additional player. Releasing Balkman would come at a cost as his contract doesn't run out until 2012-2013.
HoopsWorld.com reports that the Milwaukee Bucks have signed free agent big man Earl Barron to a 10-day contract. Barron had been linked to both the New York Knicks and Portland Trail Blazers.
NBA.com reports that the Charlotte Bobcats officially released Mo Peterson after acquiring him via trade from the Oklahoma City Thunder last week.