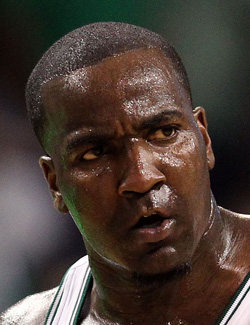 Kendrick Perkins agrees to four-year extension with Oklahoma City Thunder.
Posted by Matt Moore
Well, that didn't take long. Less than a week after being traded to Oklahoma City from the Boston
Celtics
, Kendrick Perkins will be a Thunder for the foreseeable future. The Thunder announced Tuesday they have reach an agreement on a multi-year extension with Perkins. Terms of the deal were not released in the official announcement, and haven't been leaked yet. When they are, we'll let you know. (
Update:
Yahoo! reports
it's a 4-year, $34.8 million extension. Which is, you know,
a lot
.)
Multiple reports earlier this year suggested Perkins
rejected a 4-year, $22 million max-extension
with the Celtics. Why he would turn down that extension and sign this one will be the subject of considerable debate. The answer lies in the long-term planning of the Thunder. The Thunder have managed to keep themselves under the cap despite a considerable roster and a contending team. That room under the cap is what gave them the flexibility to renegotiate Perkins' contract, to allow for what is likely a greater extension. From ShamSports.com a few days ago:
By simultaneously acquiring cap space with the underpaid Kenny Perk, OKC can now do a Baltche with him. OKC can use their cap space to renegotiate Perkins's current $4,640,208 salary up to as much $6,696,720. From there, they can concurrently offer a new four year extension totalling a a maximum of $33,818,436, or any number below that that they feel happier with.

Add in the extra negotiated salary, and that's over $35 million for four years that OKC can theoretically offer him, as-near-as-is $9 million per. In contrast, Boston could only offer circa $6 million per. It's a significant difference.

If Perkins thinks he can get that much on the open market, he's wrong. He's not even worth that much, especially with his current injury concerns. Yet if OKC anticipates his return to full health, and wants to tie in the defensive centrepiece that they have thus far lacked during the entire Kevin Durant era without running the risk of him hitting the open market, they can do so right now.

But they'll also have to do so right now.

Because there's a problem.

They only have until March 1st to do it.

So they'd better impress him quickly.
via
ShamSports.com: Tax Payers, Trade Kickers, And Other Deadline Day Bookkeeping
.
If OKC did not dramatically alter the terms of his deal in order to give him more money in the extension, then the issue with the Celtics likely came down to one of guaranteed money. If the Celtics wanted to keep his fourth year in a team option or as unguaranteed, for example, Perkins may have decided to test the open market instead to get that kind of stability. Oklahoma City's medical staff signed off on the trade of Perkins to OKC so they must not be concerned about his issues in his knees, even after missing eight months with an ACL tear and subsequent surgery.
The Thunder have their man, and they just locked him up long-term. With
Russell Westbrook
soon to be extended and eventually
Serge Ibaka
as well, the Thunder have a core in place to contend. Now we'll have to see if they struck on time and on target. They look every bit the contender many thought they would be, though.