A roundup of all of Tuesday's buyout updates and signings from around the NBA after last week's trade deadline. Posted by Ben Golliver.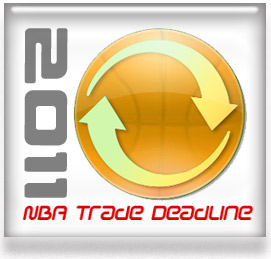 The blockbuster moves are out of the way now that the NBA's trade deadline has come and gone, but roster movement around the league continues as players are bought out or waived. This post will update throughout Tuesday with the latest updates on buyouts, waivings and signings.
For Monday's Buyout Buzz,
click here
.
(Latest Buzz)
In an unexpected move, the Washington Wizards have announced that they have bought out and waived forward Al Thornton. The team issued this statement quoting President Ernie Grunfeld: "The additions of Rashard Lewis and Mo Evans combined with Josh Howard's return from injury gave us a logjam at the small forward spot," said Grunfeld. "Coming to terms on a contract buyout with Al was mutually beneficial, as it allows us to clear space in the rotation and allows him the chance to pursue an opportunity with another team."
The Heat officially waived Carlos Arroyo this afternoon. Their statement read: "The Miami HEAT announced today that they have requested waivers on guard Carlos Arroyo. 'This was a very difficult decision to make because Carlos has done a great job for this team and this organization,' said HEAT President Pat Riley. 'He is truly a first class individual and professional. We wish him nothing but the best.'"
The Indy Star also reports that a Ford buyout is unlikely by the Pacers: "Ford unlikely to be bought out. Ford said all along he wasn't leaving any money on the table w/o a new team."
(Morning Buzz)
CSNNE.com reports that the Celtics "are focused on Corey Brewer. There's a strong belief that he is the final piece to this championship puzzle. Competition is very tight for Brewer. I think the Mavs are going to be the team to beat for his services."
ESPN.com reports that the Cavaliers may use their midlevel exception to tyr to entice Corey Brewer into signing with Cleveland. The site also lists the Heat, Bulls, Hornets, Mavericks, Spurs and Celtics as teams interested in Brewer.
NBA.com reports that free agent forward Leon Powe is talking with the New York Knicks, New Orleans Hornets, Memphis Grizzlies and Miami Heat. Powe was released by the Cleveland Cavaliers last week.