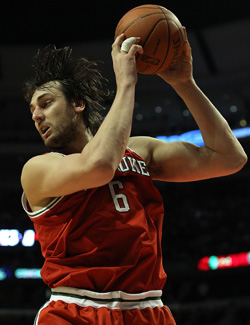 Andrew Bogut out one week with chest injury.
Posted by Matt Moore
OK, good news, bad news. Bad news, Andrew Bogut's injured. Good news, it's not a horribly grotesque injury like the last time out.
The Milwaukee Journal-Sentinel reports
that Bogut has a strained muscle in his rib-cage area and will miss a week's worth of time.
For the
Bucks
, this couldn't come at a worse time. In a season where they were supposed to build upon last season's success, the Bucks have struggled significantly. Brandon Jennings hasn't progressed, the offense they brought in has sputtered, the defense has regressed slightly, and they're four games back of the 8th spot in the East. So now really isn't the time to be missing players, but
Tuesday night they'll be without
Bogut,
Ersan Ilyasova
, and
Drew Gooden
.
Basically, Scott Skiles will be running small-ball like mad against Detroit. The Bucks face Phoenix and Boston within a week's time, which means a toss-up game and a likely loss. But without Bogut those both become at best probably losses if not locks. Bogut's their best player, even as he's admitted he's not close to 100 percent this season after that elbow injury.
It remains curious that Milwaukee did nothing with their expiring contracts, most notably
Michael Redd
, at the deadline. It's strange they didn't attempt a major shakeup with the veteran scorers they had on the market. It seemed to be a trend with Midwestern small-market teams hoarding cap space, as Indiana pushed the same policy at the deadline. Bogut needs to get back from injury for them to make a late push for the playoffs, but at the same time, Bogut's importance goes far beyond this season. Especially since it may be a lost cause regardless.