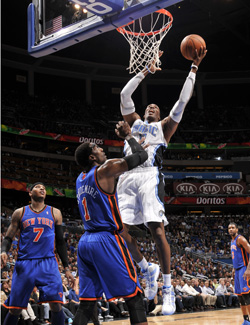 Orlando zooms past the Knicks in evidence New York has a long way to go, just days after a huge win over the Heat.
Posted by Matt Moore
So much good, and so much bad. That's the story so far of the Knicks four games into the Melo era. Meanwhile the
Magic
showed just enough good to be able to slip past the Knicks 116-110.
Orlando was having one of those nights until the fourth quarter. They burst open the lid of three-pointers, went on a tear of a run, made big plays, grabbed big rebounds and won the game. That we'll focus on New York here should not serve to discredit what is a tremendous win for the Magic.
Dwight Howard
got going early and often to give them a first quarter lead and keep them within striking distance, and once their three-point shooting worked itself out and
Chauncey Billups
ran out of steam to cover
Jameer Nelson
, it was over. The Magic lagged behind all night, then blazed past like a complete team, leaving the Knicks in the dust.
It's early, still. Very early. We're four games into the new Knicks era, and they're now 2-2. But they're not 2-2 the way we thought they might be. They're the offensive team we thought they might be, but not the way we thought they might be. And they're the poor defensive team we thought they might be, but not the way we thought they might be.
Offensively, they're both further along than we thought and still very rudimentary. The dynamic between
Carmelo Anthony
and
Amar'e Stoudemire
is much better than anticipated. We assumed that would be the big issue in the beginning, but instead, they're working well together. In particular, they're running a lot of pinch-post work deep on the wing, forcing teams to either double Stoudemire on the face-up jumper or drive, or double Melo on the give-go-and-get wing jumper. It creates significant issues, and illustrates how good they can be together, and are, already. At the same time, surprisingly, the big problems are with the stars in ISO. Carmelo Anthony is a terrific ISO player, and he's been just terrible. The shots aren't falling and he's got way too quick of a trigger considering the players he's playing with (and I don't mean
Anthony Carter
or
Shawne Williams
). The Knicks have a great ability to create open looks and opportunities in Mike D'Antoni's system, and Melo seems bent on still getting his. Pretty easy evidence of that with 25 points on 24 field goal attempts.
Stoudemire was in great form tonight. There's going to be an avalanche of discussion about his two rebounds.This against the second best rebounder in the league, an MVP candidate and likely the Defensive Player of the Year, again. This trying to guard perimeter fours, recover to help inside, then close back out on the stretch fours. Stoudemire's not a great rebounder, never has been. But this game wasn't evidence of it, it was evidence of Howard's dominance, the Magic's system, and the woeful Knicks frontcourt.
And it was woeful. Shawne Williams,
Bill Walker
,
Ronny Turiaf
. That's just not a big-man rotation you can bring into a game with a beast in the middle and expect to win. But they were. Despite Howard ripping them up down low, the Knicks played their game, got out in transition, and most importantly, ran off the threes. Then, they simply ran out of gas. Versus the game against the Heat, where they played tougher, smarter, slicker, the Knicks wore down against the Magic and watched them roll right past.
The Knicks have now beaten the Milwaukee
Bucks
and the Miami Heat, and lost to the Cleveland
Cavaliers
and Orlando Magic. That's pretty substantial proof that we don't know anything about this team yet. But what we do know can be summarized.
Anthony and Stoudemire do mesh, but they actualy need to interact more versus getting out of one another's way.
Their defense can be surprisingly good for stretches, but when it comes apart, it comes apart like it got ripped in half.
Thank God for Jared Jeffries and Derrick Brown, because the back end of this bench is a nightmare.
Anthony doesn't have to reverse his trends regarding advanced metrics, but offensively, if he doesn't become more efficient, the Knicks are simply leaving too much on the table on each possession.
The Knicks can likely match up with several teams they might run into in the playoffs. It's just unlikely they'll win the series.
For more on this game, check out Royce Young's GameChanger, featuring more on Dwight Howard and the Spurs struggling without Tony Parker.