Fourth quarter objectives for the NBA.
Posted by Matt Moore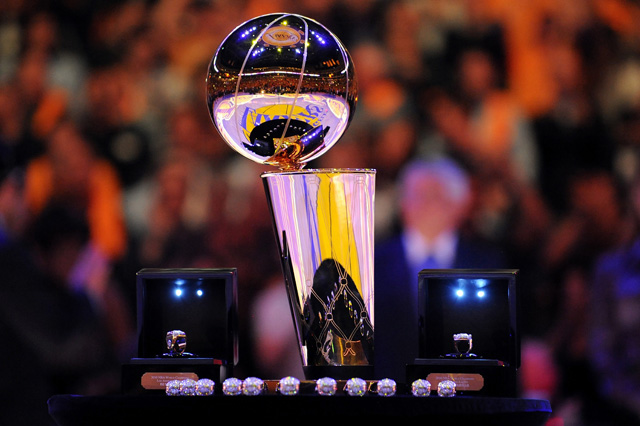 At the three quarters mark, teams have a path, good or bad, but it's not finished. Some teams have to improve to get where they've been aiming for all year, others are trying to formulate plans for the future, uncertain as it is with the lockout ahead. With the third quarter rounding out and the playoffs looming on the horizon, we look at the objectives for some of the teams of the National Basketball Association.
Boston Celtics:
Assimilate and repair. That has to be the mantra.
Nenad Krstic
and
Jeff Green
certainly appear to be easy fits for the Celtics on a win streak, but the bigger piece will be getting them in the Celtics' playoff mindset which is wholly different from what they've experienced on the
Thunder
. The kind of intensity and pressure will be even greater on them because of the lack of trust the other C's have for them. But more important than all else is for the Celtics to finish March on a rush, so they can rest their starters and coast to homecourt advantage. They've been in a dogfight with Miami all season, and now Chicago is threatening to catch as well. If the Celtics can burn off the rest of this win streak and put some distance between themselves and the East, they can rest their guys. Homecourt is more important to them than it has been in year's past after last year's Game 7, but first and foremost they have to keep everyone healthy. That's not going to be easy with Shaq out indefinitely,
Jermaine O'Neal
still out,
Troy Murphy
's back issues, and the Big 3's age. Doc's going to have to get deeper into the rotation down the stretch.
Los Angeles Lakers:
Maintain focus. The Lakers have looked unstoppable since the All-Star break and have put all concerns about them aside. They're back to the unstoppable juggernaut that represents the most popular and most successful franchise in league history. Which means they're due for another slide. It's good for the Lakers to coast a bit and rest up before the playoffs begin in a month. However, they have to keep themselves relatively sharp. In seasons past, despite winning the title, they've suffered with first-round sluggishness. This year, they're likely to face one of the following: Denver, who is dangerous and playing on an emotional high, the Blazers, who take every game with L.A. personally and make things tough in each contest, or the
Grizzlies
, who won two games against L.A. this year and have several matchup advantages. That's not to say L.A. won't win, of course they will. But with the age of the Lakers, getting rest in-between rounds is a must, especially with how well the
Spurs
have been playing. The Lakers need to make sure they stay healthy and the best way to do that is to play the fewest games and fewest minutes they have to.
Chicago Bulls:
Find the role players to step up. We know Rose is going to be Rose. And you can count on Boozer, Noah, and even Deng (who's having a heck of a season). But who's going to be the guys on that team to step up in reserve? The Bulls are 13th in the league at 3-point shooting, tied with Orlando for fourth in the East. They need to find out which players are going to be the ones getting minutes and contributing and which ones will be banished. Playoff rotations are always smaller, and the Bulls will want to know who's ready to step up and who's not quite there yet. Another way of putting this question might be:
Keith Bogans
,
Kyle Korver
, and
Ronnie Brewer
are all standing around two chairs. Who gets the seats?
San Antonio Spurs:
Shift gears. Sounds silly, right? How can the Spurs need to find another gear when they have the best record in the league? Because of the way they've gotten there. They Spurs have flirted with the top spot offensively all season (they're currently second behind the resurgent
Nuggets
), and have
stayed in the 7th range on defens
e. Seventh is pretty good, especially considering they have a better mark than L.A.. But that offense probably won't hold in the playoffs as
George Hill
,
DeJuan Blair
and
Richard Jefferson
won't have quite the success they've had in the regular season, and that defensive hill will get steeper to climb. Every year the Spurs have won a championship, they've hit an extra gear defensively, and locked down teams. That's what's going to have to happen this year for San Antonio, but with a much different set of personnel than in their previous title runs. That'll be the objective for them over the last set of games, to find that defensive intensity. A good place to start? The exact opposite of their performance Sunday versus L.A..
Miami Heat:
Give more effort. Sounds simple, but that's what so much of the Heat's failures come down to. They don't show enough focus to hold onto leads, don't show enough intensity in closing them out, fail to get key rebounds, fail to execute plays as they should and generally don't give the kind of effort you see championship teams giving. Figuring out what it's going to take to get them to that point is rocket science, and to this point, Erik Spoelstra has not demonstrated an ability to do so. That's what has to happen, though, otherwise the Heat are going to be laughed right out of the playoffs.
Dallas Mavericks:
Keep lying low. The Mavericks have snuck quietly into a great position, and no one's talking about them. They're solid, they're deep, they're winning, they have a star, they have reliable role players, and they match up well with all the top Western teams. The Mavericks can't be considered favorites, but they're doing well just by flying even more under the radar than the Spurs.
Orlando Magic:
Practice makes perfect. The Magic made their run in 2009 based on stellar defense and incredible 3-point shooting. Essentially, they got hot at the right time. They've cooled off this year. They have a better
Dwight Howard
, but they don't have the perimeter attack they've had before. For them to have any shot at a run, they need to get better from the perimeter in a hurry. The more Stan Van Gundy keeps going to
Gilbert Arenas
over
J.J. Redick
, the more distant their chances become.
Phoenix Suns:
Scratch and claw. The Suns have very little reason to push for the playoffs. They'll likely get dispatched quickly by the same team they just exorcised their demons from, the Spurs. But if they miss the playoffs, Houston gets their first round pick from Orlando. So they really need to make the playoffs from a financial and future-focused approach. It'll be difficult with Frye out and their upcoming schedule. But their best scenario is to be cannon fodder.
Detroit Pistons:
Get your house in order. The ownership situation has to get resolved, which is out of the control of anyone in the organization itself. But once that happens, it's got to get straightened out quickly. The veterans need to be moved, John Kuester needs to be shown the door, and Joe Dumars needs to start over with the young core he's got. By hook or by crook, that franchise needs a nearly clean slate.