The Portland Trail Blazers have signed coach Nate McMillan to a two-year contract extension. Posted by Ben Golliver.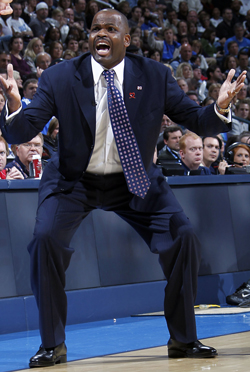 The Portland Trail Blazers announced on Tuesday that they have inked head coach Nate McMillan to a two-year contract extension, carrying his deal through the 2012-2013 season.
On a Blazers.com video stream, McMillan said that the agreement, which had been hinted at earlier this week, came together quickly. "The offer was made this morning and it was accepted this morning," McMillan said. "I was busy this morning."
Blazers owner Paul Allen
chimed in shortly thereafter on Twitter
: "I'm thrilled we just signed 2-year contract with Nate McMillan who committed to coach the Blazers for 2 more years!"
The Blazers' release included statements of support from Allen, GM Rich Cho and President Larry Miller.
"Over the past 12 months we have made significant investments in this team, all keenly focused on assembling the right pieces to compete this year and in the future," Trail Blazers owner Paul Allen said. "We've done that by adding Marcus, Wesley and most recently, Gerald and, now, I'm glad that after productive discussions, Nate is now committed to be our coach for two more years."
"With his NBA and USA Basketball track record, Nate has established himself as one of the premier minds in the game of basketball," said Cho. "What Nate has accomplished in the last few years is truly remarkable and getting his contract extended was a top priority for the franchise and me."

"Without question Nate has ascended into the upper echelon of coaches," said Trail Blazers President Larry Miller. "He's more than demonstrated his leadership and commitment to the team and this community and the time was right to demonstrate our commitment to him by extending his contract."
Portland's recent history has been injury-plagued, with franchise center
Greg Oden
troubled by multiple knee injuries and guard
Brandon Roy
missing significant time this season as well. McMillan has developed a reputation as the steadying hand, guiding the Blazers into the playoffs the past two years, on track for another playoff run this year as well.
To achieve that success, he's leaned heavily on his slow-down, rebound-centric offense that looks to create high percentage shots and limit turnovers. This season, he's shown a new-found adaptability in Roy's absence, re-structuring his offense around forward
LaMarcus Aldridge
, who has responded by delivering career numbers. His defenses aren't spectacularly effective, but generally work hard and "scrap," which is by far McMillan's favorite and most often used word in the English language.
The organization's stated goal remains championship contention. When personal and philosophical differences led to a new management team and a new group of assistant coaches last summer, McMillan kept his head down and his lips sealed. While an early-season losing streak briefly raised questions about McMillan's future in Portland, and some wondered whether he would be a candidate for higher-profile jobs this summer, Blazers management has been unwavering in its public and private support of McMillan.
Once the team righted itself after the loss of Oden to microfracture surgery this season, McMillan's return began to feel inevitable. If losing his franchise center to season-ending injuries for the second time in his first four years wasn't going to affect McMillan's ability to reach the playoffs, then McMillan started to look like the building block that should be in place long-term.
McMillan lives full time in the Rose City and is extremely active in local community service efforts. He understands the Portland market's need for accountability and transparency and the fanbase's desire for hard-working teams that fit the underdog ethos of the franchise's history. By all accounts, McMillan is happy in Portland. On the other side, the Blazers had far more to lose if McMillan left town given the difficulties of luring a premier coach to the NBA's most geographically-isolated city with a roster in peretual flux and a rookie management team.
To boil it down, life with McMillan is far better than life without McMillan, and that's why you see the extension from the Blazers now. His reliability is a big asset for a team whose roster has been turned upside down multiple times over the last few years, and still hasn't settled into a finished product.