With the Heat struggling and the fairytale visions dashed, the dynamic between James and Wade will be examined further. On the surface, they appear the same, but a closer look reveals two very different superstars.
Posted by Matt Moore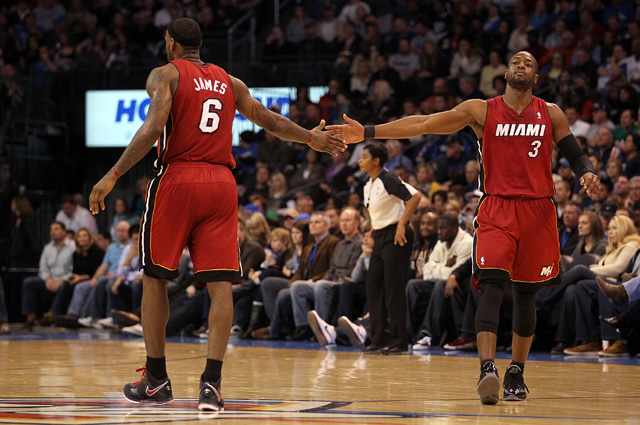 LeBron James
and
Dwyane Wade
are not two sides of the same coin. They're not even really kindred spirits. They both came from hard circumstances, were celebrated athletes coming up, but there are too many differences between them to count. On the surface, they look every bit twin stars, playing next to each other, suffering similar fates due to a similar ego, both struggling with the fall of their heightened expectations. But look closer, and it's a wonder there hasn't been a more severe fracture already in the Heat locker room.
While James was having a documentary made of his high school team's exploits, laughing and sharing the glory with his friends, Wade was leading the Marquette Eagles, one of only three schools to recruit him and a heavy underdog, to the Final Four. James was hyped since grade school. Wade struggled to get playing time in high school, was a relative unknown in college on a relatively unknown school, and a quiet rookie in the best class, possibly, ever. But he excelled at every level. James had the franchise built around him slowly, in plodding big steps, while Wade was put into a whirlwind, first with
Lamar Odom
and
Caron Butler
, then with
Shaquille O'Neal
and the 2006 championship team. James found consistent success without a championship, Wade suffered through the lottery year of 2008. James has been blessed with excellent health through every season, Wade has battled nagging injuries consistently since the last piece of confetti fell on his championship win.
In short, Wade has always faced the harder road, and worked harder to overcome it. James has always been blessed with his road to ascension, yet found failure at every turn in terms of greatness at the NBA level. Wade has been the star who always did more than could have been reasonably expected. James let down his
Cavaliers
against the
Celtics
, Wade went above and beyond to help a terrible Miami team against the same Celtics team they were overmatched against. It's a matter of perception, but it's also a significant one.
What's most interesting about the two working together is how they contrast one another. James has always been elitist with his friends, selective, and dismissive of those beneath him. Wade, on the other hand, as
outlined by Ira Winderman for NBCSports.com
, talks about the differences in their demeanors socially:
LeBron James and Dwyane Wade did not enter this partnership as best friends. Friends? Yes, but more typical of the bond built during promotional appearances, league get-togethers and the occasional two- or three-week tours with a national team. "Friendly" stands closer to the truth.
Even now, this is nothing close to what Wade even had with former teammate Dorell Wright, the nights spent at his friend's house working his way through life's travails, being silly, sharing countless meals together on the road, even as Wright deemed everything on the menu "Bomb!," much to the amusement of Wade.
For James, NBA life, and life in general, is bigger than that. LeBron almost always has his people on the road with him; Wade mostly settles in with the company of teammates, often second- and third-tier talents. He is much more of the everyman in the equation.
Maybe that's why James and Wade have struggled in terms of their on-court chemistry. The Heat has lacked focus, lacked mental strength, lacked an emotional edge. Teams have to feed off of that shared identity, that common determination. They have to be fueled by the efforts of one another. Wade has always drawn strength from those with less talent working as hard as they can to help him succeed for the team. Instead, the Heat is constantly looking to one another to lead. It's a group of strength trying to defer so as to not upset the balance. James has always been at the forefront taking the brunt of the responsibility while never dealing with the consequences. Wade has instead drawn on his teammates to find the drive to overcome skepticism.
At the same point, while Wade is the more "every man" of the two, Wade's also been the one to have more of a cohesive, adult approach to his affairs. Wade learned early from
Alonzo Mourning
and Shaquille O'Neal how to diversify his business interests. He's a pivotal part of a massive charity foundation, and all this is beyond the simple fact that Wade has a ring, and has acted in accordance with acquiring another at every turn. James, on the other hand, seems to struggle with moving teammates he likes, or sacrificing his personal preferences in regards to his friends and his lifestyle. Whether that approach has rubbed off on Wade isn't known at this point, but one thing's certain. Wade won't stand for this long. Wade doesn't talk about being a global icon or a cultural idol. He just appears in massive commercial campaigns and makes a ton of money through his affairs. Wade appears in three-piece suits while James appears in designer jeans and jackets. James is the most powerful player in the NBA, in nearly every sense. But Wade is the one who maximizes his ability in every realm of his life.
This isn't to say Wade's never made a mistake. His personal and professional life has been full of gaffes, mistakes, and failures. The difference has always been how Wade has responded, with a determined strength and resolve. James has responded by brushing off criticism, and finally, escaping to Miami. Wade has always had an answer to the challenges he's faced.
Until this year.
The question going forward is what Wade will do if it becomes apparent that this little plan they had formed isn't something he wants to be a part of. He was as enthusiastic about it as any of the three this summer. But when it comes down to it, Dwyane Wade would rather take the hard road to winning than the easy way to failure. That's just who he is. He's used to adversity and what it takes to overcome it. James has seemingly never dealt with the reality that some things simply won't come naturally to him. If they can't find a common space to exist, Wade will do what he has to in order to correct the situation, whatever that means.
As far as who LeBron James is? That's a much more difficult question with an answer which we honestly don't have much of an answer for yet.
Wade and James are friends, or are "friendly" or are close in some regard. But there will still be a gap until they accomplish something great together, or suffer through something severe together. Maybe that's the only good news about this embarrassing fall the Heat Triad isexperiencing. It may teach them both about what success will require of both of them, individually and together.